Crisps
Published: Jan 12, 2011
Updated : Jan 17, 2011
Ethical Consumer's Buyer's Guide to Crisps in 2009 gave Piper Crisps an ethiscore of 14.5, compared to 11.5 for Golden Wonder and Jonathon Crisps.
Golden Wonder parent company, the Northern Ireland based Tayto Groups have subsequently acquired Jonathon Crisps and Real Crisps, making them third biggest crisp and snack business in the UK.
Kettle Chips scored 9.5. This may have changed as they were aquired in 2010 by Diamond Foods Inc in the US. Diamond Walnut was the location for the longest union strike in U.S. history as of 2010. The strike began in 1991 and ended in 2005 [ref].
Meanwhile KP and McCoys, being owned by United Biscuits, received an ethiscore rating of just 4.5, with concerns including land rights and fossil fuelled power issues, tar sands involvement, probable use of animal testing and the sale of meat and unsustainable fish.
Walkers, owned by PepsiCo Inc, also rated only 4, with concerns including use of palm oil without adequate remediation, subsidiary blacklisted for environmental violations in China, the worst ECRA rating for animal testing, operations in eight oppressive regimes and subsidiaries in eighteen tax havens.
Pringles Crisps managed to hit an ethiscore of just 0.5, but they are owned by notorious animal tester Proctor and Gamble, with experiments involving transgenic mice and a boycott call by both Uncaged and Peta.
A detailed Ethiscore Report on crisps was published in Ethical Consumer 107 July/August 2007, available to subscribers online. A free buyer's guide to crisps was updated in October 2009, with the revised scores shown here.
Subscribers have access to over 170 buyers' guide reports scored according to 23 ethical categories. Roughly speaking, a score of 15 to 20 is good; 10 to 14 is average; 5 to 9 is poor and 0 to 4 is very poor.
================
The following Piper Crisps are listed as vegan (by Lembas), with a standard 40g bag selling for 65p rrp.
Anglesey Sea Salt
Biggleswade Sweet Chilli
Norfolk Bloody Mary (packaging confirms no animal ingredients)
Sea Salt & Indian Black Pepper
Sea Salt & Somerset Cider Vinegar
Stop press: it turns out that this one lists lactose on the ingredients and 'contains milk' on the allergy advise, despite being listed by Lembas as vegan. Investigations continue.


================
Seabrook Canadian Ham Crisps
A blogger comments: "Aaaah, Seabrook, the crisp of the North! These very, very fine potato chips are largely found north of Watford in the UK, and are vastly superior to any other brand of potato chip to be found in the British Isles. (It's a known fact.) Plus, they have numerous delicious vegan flavours, including the wondrously 'meaty' Canadian Ham, but also Smoky Bacon and numerous other less surprising flavours."
Seabrook Crisps are an Ethical Consumer best buy, with a score of 14, but sadly not available from Veggies supplier, Lembas.
================
Jonathon Crisps list only their Sundried Tomato & Basil crisps as vegan, but email received in January 2011 confirms that their Lightly Salted; Sea Salt & Malt Vinegar and Jalapeno Pepper are also vegan, although they are listed on their website as vegetarian rather than vegan.
Sister company Golden Wonder seemed to be reorganising their product info when their website was checked. Product info for the Real Crisps brand is also inconclusive.
================
Other brands of crisps, including supermarker own brands, may be found in the Vegan Society's Animal Free Shopper, available from Veggies Bookstall.
================
However like many people we sometime find ourselves stuck at motorway services looking for a quick snack…
KP Crisps. The following flavours were suitable for vegans in January 2011 according to their 'suitable for vegans list': ready salted, beef, salt & vinegar and Worcester sauce.
McCoys vegan potato chips: Salted, Salt & Malt Vinegar Flavour, Mexican Chilli Flavour, Thai Sweet Chicken Flavour, Chicken Jalfrezi Flavour (Limited Edition).
Walkers Products Suitable for Vegans
Suitable for Vegetarians and with no Added Egg, Milk or Other Animal Derivatives
From: Talk To Us @ Consumer Services thurmaston.consumer@pepsico.com
Date: 10 September 2010 18:00
Subject: Your Contact About Walkers Crisps
Many thanks for your email.
Please find below a list of those products which are suitable for your diet. Any which are not listed are not suitable for your particular diet.
September 2010
Crisps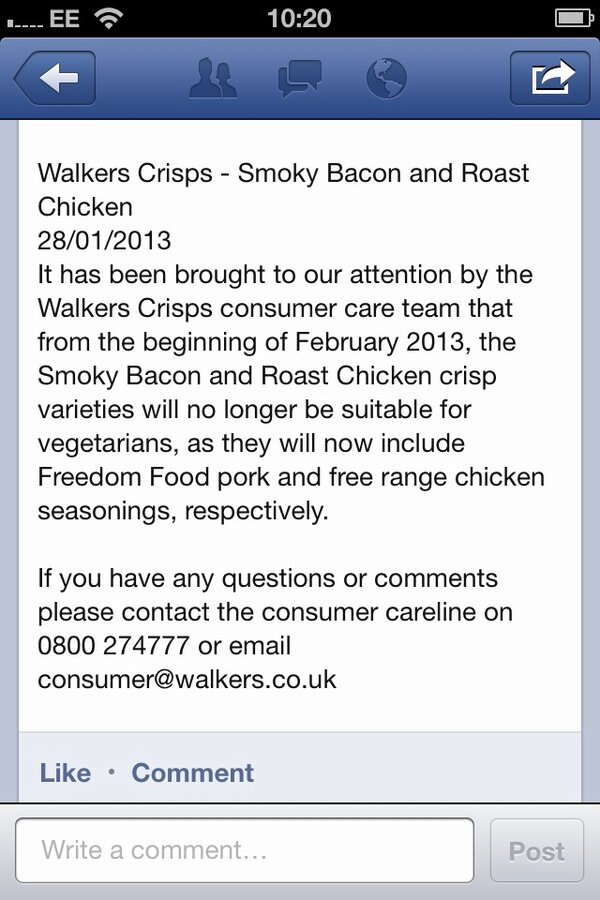 Walkers Argentinean Flame Grilled Steak Flavour Crisps
Walkers BBQ Rib Flavour Crisps
Walkers Pickled Onion Flavour Crisps
Walkers Prawn Cocktail Flavour Crisps
Walkers Ready Salted Crisps
Walkers Spanish Chicken Paella Flavour Crisps
Walkers Steak & Onion Flavour Crisps
Walkers Worcester Sauce Flavour Crisps
Walkers Salt & Shake Crisps
Walkers Lights Simply Salted Crisps
Walkers Extra Crunchy Flame Grilled Steak Flavour Crisps
Walkers Extra Crunchy Simply Salted Flavour Crisps
Walkers Sensations Balsamic Vinegar & Caramelised Onion Flavour Crisps
Walkers Sensations Roasted Tomato & Aromatic Spices Flavour Crisps
Walkers MAX Chargrilled Steak Flavour Crisps
Walkers MAX Paprika Flavour Crisps
[editors note: we understand that Walkers Salt and Vinegar Crisps, haven't been vegan for ages]
Snacks
Walkers Baked Ready Salted
Walkers French Fries Ready Salted
Walkers French Fries Salt & Vinegar Flavour
Walkers Quavers Prawn Cocktail Flavour
Walkers Quavers Salt & Vinegar Flavour
Walkers Sensations Poppadom Bites Lime & Coriander Chutney Flavour
Walkers Squares Ready Salted
Walkers Squares Salt & Vinegar Flavour
Walkers SunBites Original
Walkers SunBites Sun Ripened Sweet Chilli Flavour
Walkers Wotsits Flamin' Hot Flavour
Doritos Chilli Heatwave Flavour
Doritos Lightly Salted
Doritos Zesty Salsa
Smiths Chipsticks Ready Salted
Smiths Chipsticks Salt 'n' Vinegar Flavour
DIPS
Doritos Hot Salsa Dip
Doritos Mild Salsa Dip
Doritos Sour Cream & Chive Dip [editors note – probably listed in error]
Please Note:
This list is published using the best possible information that is available at the time of compilation. Whilst we take every care, Walkers Snack Foods cannot accept liability for any errors that may inadvertently occur. Recipes may change so always check ingredients on the pack.
We do hope that we have been of help and you continue to enjoy our products. However, if you do have any further queries, please do not hesitate to contact us again on our Freephone number – 0800 274777.
Regards
Karen De Burle
Customer Services