.
Saturday.
27th Jun 15
to
Sunday
5th Jul
UK Week for the Animals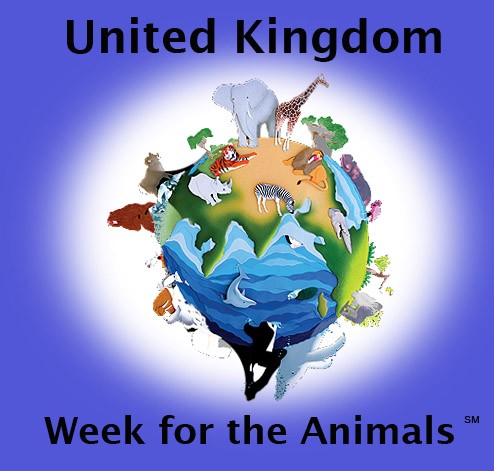 This exciting week designed to celebrate and turn the spotlight on UK animals, citizens and communities.

Let's join together and build new relationships globally while helping the animals whom we love, celeb

The fun-filled week will feature pet adoption events, animal-assisted therapy in hospitals, training events, a salute to working canines, school/art displays and activities, pet awareness events at libraries, blessings of the animals, golf outings, art exhibits, low cost spay and neuter events, art gallery events, book signings, walks for farm animals, veggie events, musical events and so much more! All these activities and events will shine the spotlight on the amazing animals and compassionate people who love them.

If you would like to learn more, be involved or schedule an event, please get in touch.

Full details at Event Web Site.


back to top
next date
add-a-date


July 2015

.Saturday.
4th Jul 15
Hunt Crimewatch : Every week

.Saturday.
4th Jul 15
Animal Aid - Street Collection : Every Saturday

.Saturday.
4th Jul 15
FRIEND Working Parties :

.Saturday.
4th Jul 15
Ethical Voice for Animals : Every Saturday

.Saturday.
4th Jul 15

Animal Rescue Workday

Kirkby Pet Welfare is a small animal shelter attempting to tackle the desperate task of rescuing and re-homing unwanted rabbits, hamsters and other small rodents, often bred indiscriminately by the pet trade.

Nottingham Animal Rights seeks volunteers for regular workdays. It is really rewarding work, because we can all do a little to make a big difference. The dogs at Pet Welfare are only walked once or twice a week so this is an easy and fun job that can make a positive impact on their lives. Transport may be available from Beeston or Nottingham - call Lee on 07599 282851.

EventView Page

Kirkby Pet Welfare . Email: kirkbypetwelfare@outlook.com.no-spam (Remove the no-spam filter from the address)

.Saturday.
4th Jul 15

10:00
to
16:00

Newcastle Vegan Festival

We're delighted to be bringing the Second Vegan Festival to be held in Newcastle upon Tyne on the 4th July 2015. The festival will attract thousands of people from all across the UK!

There is no better way to market, promote and develop your vegan business this year. Exhibitors will be offering a wide variety of vegan produce, including cakes and chocolate, hot takeaway food, make up, clothing, pet treats and cheese.

Note that the venue is now The Assembly Rooms, Fenkle Street, Newcastle upon Tyne, NE1 5XU

Organised by the same team as the Newcastle upon Tyne Vegan Festival (8th August).


EventView Page

Newcastle Vegan Festival . Email: newcastleveganfest@outlook.com.no-spam (Remove the no-spam filter from the address)

.Saturday.
4th Jul 15

starts
12:00

London Anti-Fur Demos

There are demos every Saturday at shops selling fur. Regular targets include Harvey Nichols, Harrods and Joseph, as well as international campaign targets Escada and Max Mara.

Possibly 12 midday - 4pm or later at Harvey Nichols 109 - 125 Knightsbridge, London, SW1X 7RJ. Nearest tube is Knightsbridge. Call 07432 294001. Placards and leaflets and will be available.

Animals used to make fur included mink, blue fox, silver fox, musquash, rabbit, beaver, wolf, coyote, chinchilla and squirrel.

Following a campaign in 2004, Harvey Nichols introduced an ethical fur free policy. However in September 2013 the department store chain decided to drop its fur-free policy. It is vitally important to take action on this, if Harvey Nichols continues to sell fur, other department stores and fashion chains are likely to follow. Please come along to support the protest, you can help whether you can spare just an hour or the whole afternoon. There are also protests at Harvey Nichols in other cities

EventView Page

Coalition to Abolish the Fur Trade (CAFT-UK) . Ph: 07899 775493 or 07866 879851 . Email: london(at)caft.org.uk

.Saturday.
4th Jul 15

18:15
to
19:30

Belle Vue Greyhound Demo, Manchester.

Over recent years there have been a number of dogs killed at Belle Vue Greyhound Racing Stadium at Belle Vue Racetrack, Kirkmanshulme Lane, Gorton, Manchester M18 7BA, (see Indymedia reports: [1] / [2]) so we have to tell the punters with all honesty that dogs are regularly dying in the Belle Vue ground. We need to put an end to this miserable place, please give us your support. See Twitter too.

EventView Page

Greyhound Action . Ph: 01562 745778 / 07703 558724 . Email: info[no-spam]greyhoundaction.org.uk

.Saturday.
4th Jul 15
Wimbledon Greyhound Stadium Demo : Every Saturday

.Sunday.
5th Jul 15
Campaign for a Fur Free Brick Lane : Every week

.Wednesday.
8th Jul 15

STOP Live Exports

KAALE vigils are held whenever there is a sailing of live animals from Ramsgate on the exporter Ouderwater's ship the Joline.

Sailings are announced on the 01304 204688 info line by the lunchtime before the night it is to happen, with a texting service to inform people as soon as they know of a sailing. Register your mobile number to 07968 134489 or email.

Regular monthy demos may also be held at Dover or Ramsgate.


EventView Page

Kent Action Against Live Exports (KAALE) . Ph: 01304 204688 / 07968 134489 . Email: kaale-at-kaale.org.uk

.Wednesday.
8th Jul 15
Derby Animal Rights : Every 2 weeks

.Thursday.
9th Jul 15

starts
13:00

SPEAK - Thursday Demos

Don't forget that every Thursday there is a demo opposite Oxford University's primate 'research' labs on South Parks Road, 1pm to 5pm. There will be other protests close to the site and other places around Oxford on most days, so keep in touch. For more details on demos please contact us.

EventView Page

Speak Campaigns . Ph: 07906 497317 . Email: info-at-speakcampaigns.org

.Thursday.
9th Jul 15

starts
19:30

Nottingham Animal Rights Networking

Nottingham Animal Rights meets in the City Centre every 4 weeks to catch up on campaigns, giving a special opportunity for new supporters to meet up in a social environment.

Probably at Broadway, 14-18 Broad Street, City Centre, Nottingham NG1 3AL.

All welcome - hunt sabs, AR activists, people who want to get involved, and people who just want to know more about what we do, including supporters of Animal Aid, Greyhound Action, Hunt Sabs, SHAC, VIVA!, Vegan Society, Vegetarian Society, and the many other groups that we aim to support locally.


EventView Page

Nottingham Animal Rights . Ph: 0115 960 8254 . Email: nar-AT-veggies.org.uk

.Friday.
10th Jul 15
Brighton Anti-meat demo and stall : Every Friday

.Saturday.
11th Jul 15

Brinsley Animal Rescue Workday

Brinsley Animal Rescue are short of volunteers during the Winter - fence building, staining, aviary building, mucking out, rabbit run building and more. Call Brinsley first to check arrangements. You can go by Rainbow 1 bus from Nottingham Victoria Bus station or Upper Parliament St (towards Eastwood/Alfreton). Ask for the Moor Road stop in Brinsley, by the fish&chip shop.

On alternate Saturdays transport may be available from Beeston or Nottingham - call Lee 07599 282851, but any other time is good too.

EventView Page

Brinsley Animal Rescue . Ph: 0845 458 2813

.Tuesday.
14th Jul 15

starts
19:00

League Against Cruel Sports East Midlands Group

East Midlands supporters meeting for League Against Cruel Sports at 7pm at Fellows, Morton & Clayton, 54 Canal Street, Nottingham, NG1 7EH, on 2nd Tuesday every two months.

Please let me know if you are able to come along in order to give me an idea of numbers etc.

League Against Cruel Sports East Midlands Group . Ph: Jon: 0750 200 6667 . Email: LeagueEMGroup.at.aol.com

.Saturday.
18th Jul 15

to

Friday
31st Jul

Vegan Roadshow

The Vegan Roadshow is a mix of music, food and activism on the road across the UK during summer 2015, to include:

10 live music shows in 9 UK cities and towns featuring vegan band Love Like Hate from Brisbane, Australia.


Information and merchandise booth run by Animal Equality.


Vegan food cooked fresh by local businesses.


Each night hosted by Fat Gay Vegan


This is a UK first. You can help Fat Gay Vegan take vegan food, activism and music all over the country. Be a part of vegan history.

EventView Page

.Monday.
20th Jul 15

to

Monday
3rd Aug

Vegan Camp

Vegan Camp is a well-deserved break for vegans, or anyone willing to be vegan during their stay, including many active campaigners. You can stay for however long you want, for 2 weeks, or for a day or two.

The 2015 Camp will be held at Waldegraves Holiday Park in Essex, offering outings, cooking classes, craft, games, pot lucks, camp fires, BBQ's, meals out and talent shows. There will even be a vegan shop on site!

Everyone of all ages are welcome - many children attend, about 35% are under 18.

EventView Page

.Thursday.
23rd Jul 15

starts
20:00


Food by Veggies


[ Map ]

Nottingham Animal Rights

Nottingham Animal Rights meetings, every 4 weeks at the Sumac Centre, 245 Gladstone Street, (New Basford / Forest Fields), NG7 6HX, to plan forthcoming campaign activities, usually starting at 8pm.

All welcome - hunt sabs, vegan campaigners, AR activists, people who want to get involved, and people who just want to know more about what we do, including supporters of Animal Aid, Greyhound Action, Hunt Sabs, SHAC, VIVA!, Vegan Society, Vegetarian Society, and the many other groups that we aim to support locally.

EventView Page

Nottingham Animal Rights . Ph: 0845 458 9595 . Email: nar-AT-veggies.org.uk

.Thursday.
30th Jul 15

to

Monday
3rd Aug


Food by Veggies

Peace News Summer Camp 2015

Peace News Summer Camp, is an annual five-day, family-friendly event that attempts to extol the virtues of a democratic, participatory, renewably-powered and environmentally sustainable society.

The 2015 Peace News Summer Camp will now be held at Crabapple Housing Co-op near Shrewsbury with local activists - top trainers - revolution - non-violence - learning from other movements - community - glorious countryside.

Field catering by Veggies Catering Campaign, with a Veggies Cafe, tuck shop and cake bakery! To help with the catering, please contact us.



Remember: Wars Kill Animals Too

EventView Page

Peace News . Ph: 07980 748555 . Email: editorial=at=peacenews.info



back to top
next date
add-a-date


August 2015

.Sunday.
2nd Aug 15

11:00
to
16:00


Food by Veggies

Brinsley Animal Rescue Open Day

Join us raising funds for animal rescue work and the animal hospital at Brinsley Animal Rescue, a not for profit organisation, run by volunteers on vegan values, dedicated to the caring of pets, wild animals and farm animals.

Come and see the animals, meet the volunteers an browse the many stalls.

The primary mission is to relieve the suffering of animals and birds. Many of the animals are simply 'surplus to requirements' from the meat, dairy and egg industry. Because such animals are deemed unprofitable then the aim is to take them on and find them loving homes in which they can enjoy the retirement they deserve.

As well as stalls, talks and games, there is vegan beer, vegan ice cream and food by Veggies so come over, chill out and meet the animals. Find out about regular work days with Nottingham Animal Rights.


EventView Page

.Saturday.
8th Aug 15

10:00
to
16:00

Edinburgh Vegan Festival

The first ever Vegan Festival will be arriving in Edinburgh this summer on 8th August, organised by the same team as the Newcastle upon Tyne Vegan Festival (4th July).

There is no better way to market, promote and develop your vegan business this year. Exhibitors will be offering a wide variety of vegan produce, including cakes and chocolate, hot takeaway food, make up, clothing, pet treats and cheese.

Venue: The Roxburghe Hotel 38 Charlotte Square Edinburgh City Centre EH2 4HQ . 10am - 4pm

EventView Page

Edinburgh Vegan Festival . Email: veganenquiries[at]gmail.com

.Wednesday.
12th Aug 15

The Gory Twelth

Start of the grouse shoot sabbing season.

Contact your local Hunt Sabs or Hunt Saboteurs Association

Hunt Saboteurs Association . Ph: 0845 450 0727 . Email: info@huntsabs.org.uk.no-spam (Remove the no-spam filter from the address)

.Wednesday.
19th Aug 15

to

Sunday
24th Aug


Food by Veggies

Earth First Summer Gathering

The Earth First! Summer Gathering is the place where people involved in radical ecological direct action - or those who want to be involved - get together for five days of time and space to talk, walk, share skills, learn, play, rant, find out what's going on, find out what's next, live outside, strategise, hang out, incite, laugh and conspire.

The workshops, networking and planning of actions at this low impact eco-living camp is organised non-hierarchically. It's run without leaders by everyone who comes along, so come prepared to chip in!

Veggies are providing a cafe space, tuck shop & vegan cake baking workshops.

EventView Page

.Sunday.
23rd Aug 15

to

Friday
28th Aug

Teen VGN Summer Camp

The Teen VGN Summer Camp is open to 11-17yrs olds (at the time of the camp).

TeenVGN have privately hired Goblin Combe Lodge, set in 130 acres of stunning countryside, just 11 miles from Bristol City Centre.

More details on the Teen Vegan Camp event website or the TeenVgn Facebook page.


Full details at Event Web Site.



back to top
next date
add-a-date


September 2015

.Saturday.
26th Sep 15

International Rabbit Day

International Rabbit Day is held on the fourth Saturday or Sunday of September.

Rabbits have a hard time - from the pet trade to the casserole pot, from hunting to vivisection and increasingly the fur trade. Use this day as an opportunity to
get active for the bunnies!


EventView Page



back to top
next date
add-a-date


October 2015

.Thursday.
1st Oct 15

World Vegetarian Day / Week / Month

World Vegetarian Day is promoted by North American Vegetarian Society, for veggie organisations worldwide: http://www.navs-online.org

International Vegetarian Week is 1st-7th October, although that is by no means a rigid date: http://www.vegetarianweek.org/

World Vegetarian Awareness Month: http://www.hknet.org.nz/VegeWVD.html

EventView Page

.Friday.
2nd Oct 15

World Farm Animals Day

Marks the birth of Ghandi.

.Sunday.
4th Oct 15

World Animal Day


World Animal Day - a special opportunity for anyone who loves animals.


To celebrate animal life in all its forms

To celebrate humankind's relationship with the animal kingdom

To acknowledge the diverse roles that animals play in our lives – from being our companions, supporting and helping us, to bringing a sense of wonder into our lives

To acknowledge and be thankful for the way in which animals enrich our lives

Don't forget to use the event listing facility which provides free publicity to any group or individual who is doing something special connected with animals on or around 4th October. For inspiration see details of the events held in previous years via http://www.worldanimalday.org.uk


Note that the Animal Rights Calendar does not endorse any events involving animals captive in zoos, or the handling of animals in wildlife parks.

Full details at Event Web Site.

World Animal Day . Ph: 01242 252871 . Email: info+at+worldanimalday.org.uk

.Sunday.
4th Oct 15

World Day of Prayer for Animals
(St Francis Day)

Each year on or near the Feast Day of St. Francis, which falls on October 4th, there are blessings for animals.

In 2008 the annual Anglican Society for the Welfare of Animals service is at Rochester Cathedral on Saturday 4th October.

Full details at Event Web Site.

Anglican Society for the Welfare of Animals . Ph: 01252 843093 . Email: feedback-at-aswa.org.uk

.Tuesday.
6th Oct 15

National Badger Day

Each year the National Federation of Badger Groups (NFBG) helps thousands of badgers in Britain. You can help badgers too, by organising or taking part in an event to raise funds for, or awareness of, the NFBG on or around National Badger Day.

EventView Page

Badger Trust . Ph: 08458 287878 . Email: enquiries+at+badger.org.uk

.Saturday.
10th Oct 15

to

Sunday
11th Oct

Vegfest UK London 2015

After two successful stints at Olympia in 2013 and 2014, attracting over 9,000 visitors on each occasion, VegfestUK London is moving into the Central Hall (Levels 1 & 3) of Olympia on October 10th & 11th 2015.

VegfestUK London 2015 will feature over 200 stalls, 12 caterers, keynote speakers, celebrities, kids activities and kids cookery classes, plus the LifeWell Hub, Live Comedy and Music, a Bodybuilding Contest, a Cinema, Talks and Cookery Demos, plus a number of other exciting activities TBA.

Website will be live for bookings in February 2015.

Full details at Event Web Site.

.Friday.
16th Oct 15

What's Still Wrong With McDonalds

29th International Day of Action Against McDonalds, to mark World Food Day

The very first London Greenpeace anti-McD day of Action was on 19 Jan 1985 and soon became a global phenomenon!

Protest against everything that's wrong with McDonald's - animal cruelty, exploitation of workers, damaging the planet, promoting unhealthy food, marketing to young children and much more. For a summary of the issues surrounding the McLibel Case see the High Court Judgement and the European Court of Human Rights ruling. Also www.knowmore.org

Why not Adopt-YOUR-Store - get leaflets from Veggies or Do-It-Yourself.

McGreenwash Leaflet Open Office Document or PDF

Food Not Bombs groups worldwide are also encouraged to share vegan meals in their neighbourhoods:
http://www.foodnotbombs.net/world_food_day_action.html

EventView Page

.Saturday.
17th Oct 15

10:00
to
18:00


Food by Veggies

Northern Vegan Festival

The Northern Vegan Festival will be held from 10am until 6pm at Sachas Hotel, Tib Street, Manchester, M4 1SH and three other venues.

There will be more than 150 stalls selling a variety of vegan, ethical products from toiletries, makeup and clothing to chocolates, cakes and gifts. There will also be local and national organisations and groups providing more information about vegan living.

Caterers will include Gillie Food, Lily's, St Best Caribbean Caterers, Teatime Collective and Veggies Catering Campaign (TBC)

This volunteer-run event needs your help - contact the organisers for more info.

EventView Page

Northern Vegan Festival . Email: info(at)northernveganfestival.com

.Saturday.
24th Oct 15

10:00
to
19:00


Food by Veggies

Anarchist Bookfair 2015 ?

Provisional date for the 2015 London Anarchist Book Fair.

Can YOU help find a NEW VENUE?

Subject to confirmation, the Bookfair features all the usual stalls, meetings, workshops, films, cabaret and more, at a New Venue to be announced.

Help will be welcomed with Veggies Catering or with Veggies/Sumac InfoStall inside the Bookf@ir.




EventView Page

Anarchist Bookfair . Ph: 020 7242 8032 / 07092 151350 . Email: mail(at)anarchistbookfair.org.uk

.Saturday.
24th Oct 15

to

Sunday
25th Oct

10:00
to
18:00


Food by Veggies

West Midlands Vegan Festival

Having attracted 3000 people in 2014, the 8th West Midlands Vegan Festival in 2015 will be a 2-day celebration, promoting vegan lifestyles, and everyone is invited!





EventView Page



back to top
next date
add-a-date


November 2015

.Sunday.
1st Nov 15

to

Monday
30th Nov

Vegan Month

Vegan Month is recognised annually by vegan groups and individuals nationwide, supported by The Vegan Society and Animal Aid

If you're not (yet) vegan then this is the perfect opportunity to give it a go. If you'd like to do more than just try some great vegan food you could try to go vegan for 7 or 30 days by taking Vegan Pledge.

Find events all around the world, from The Ukraine to Australia, on the World Vegan Month Events listing.

For ongoing events throughout the UK throughout the year see the Vegan Society Events Calendar and the Vegan Outreach Diary

Find support from vegan campaigners in your area from Veggies Networking Directory.


Full details at Event Web Site.

.Sunday.
1st Nov 15

World Vegan Day

World Vegan Day is celebrated all over the world, in many different ways, from a simple birthday party to a full vegan festival with exhibitions of vegan food and products, talks on nutrition and cooking demonstrations.

Is YOUR local event on the Vegan Outreach Diary?

Full details at Event Web Site.

Vegan Society . Email: media-at-vegansociety.com

.Sunday.
1st Nov 15

Beginning of Hunt Crime Season

First they ignore you, then they laugh at you, then they fight you, then you win.
Mahatma Ghandi

Join your local Hunt Sabs as they prevent illegal hunting on anniversary of the official start of the fox hunting season in the olden days.


Hunt Saboteurs Association . Ph: 0845 450 0727 . Email: info@huntsabs.org.uk.no-spam (Remove the no-spam filter from the address)

.Thursday.
5th Nov 15

Barry Horne Memorial Actions

Let us know if you are organising events at local labs, or elsewhere, to commemorate Barry's death on November 5th 2001, and for the animals.

5th November is the anniversary of the death in prison of fellow activist Barry Horne. Barry died in Long Lartin prison of liver failure, a direct result of three prison hunger strike protests against government policy on animal experiments.

To mark the day, please either organise an event or action dedicated to Barry, or dedicate your planned event or action to Barry's memory.

The event doesn't have to be connected with vivisection, Barry was an all round activist. He was a vegan, a hunt saboteur for many years, was convicted of trying to release a dolphin from an aquarium, attended demos against all forms of animal abuse.


EventView Page

Barry Horne . Email: info@barryhorne.org.no-spam (Remove the no-spam filter from the address)

.Thursday.
5th Nov 15

Bonfire Night - Watch out for animals

Every year the RSPCA receives hundreds of calls about animals distressed or injured by fireworks.

Find useful information about animals and fireworks on the RSPCA Fireworks homepage.

Also be sure to check your bonfire for hedgehogs and other animals.


Full details at Event Web Site.

R S P C A . Ph: 08700 010 1181

.Saturday.
7th Nov 15

11:00
to
16:00


Food by Veggies

Lincoln Veggie Fair

Sample vegan delights at 7th Lincoln Veggie Fayre on Saturday 7th November 2015 at the Trinity United Reformed Church, Garmston Street, LINCOLN LN2 1HY.

There will be a variety of food to sample from leading vegetarian companies, as well as ideas for tasty dishes to try at home. Lots of free hot and cold vegan food, free non-food samples, vegan-friendly stalls, talks, tombola, cookery demonstrations etc.

Already Vegan? Volunteers for the day would be great and should contact Vegan Lincs.


EventView Page

.Sunday.
8th Nov 15
North East Vegan Festival (Sunderland) : To be confirmed

Date to be confirmed.

Following the success of the 2014 North East Vegan Festival the organisers are making it a twice a year in 2015!

First one on May 31st, second one on either Nov 8th or 15th(depending on football fixtures), both at the The Stadium of Light in Sunderland.

Events will showcase vegan food, campaign organisations, shoes, crafts, toiletries, etc... in short, a great range of ethical products will be on display, some with free samples, for you to visit. The Festival will welcome vegans, vegetarians and omnivores to come and see the amazing choices vegans have to both help reduce the impact on animals AND have a healthier life.

Full details at Event Web Site.

North East Vegan Festival . Ph: 07736 778890

.Sunday.
8th Nov 15

starts
11:00

Animal Remembrance Service

Subject to confirmation (details projected from 2014), the Anglican Society for the Welfare of Animals (ASWA) invite you to a Remembrance For Animals In War at The Animals War Memorial, Brookes Gate, off Park Lane, London (nearest Tube: Marble Arch).

Contact Samantha Chandler AngSocWelAnimals@aol.com for info.


---


In 2014 there was a non-religious service of remembrance for all the thousands of horses & other animals who perished in WW1 & continue to do so in all warzones, at the 'Animals War Memorial' on Park Lane, London
More on Remembrance for Animals in War

Never forget: "Whilst there are slaughterhouses, there will be battlefields" - Tolstoy


EventView Page

Animal Remembrance . Email: AnimalPadre[at]aol.com

.Wednesday.
11th Nov 15

starts
11:00

Rememberance Day

"Whilst there are slaughterhouses, there will be battlefields" - Tolstoy

More at http://www.veggies.org.uk/news/stopwar.htm

See also Animal Remembrance Service.

Throughout history, animals have suffered and died as a result of human conflicts.

Remember the animals by wearing a purple poppy from Animal Aid
or request their booklet Animals: The Hidden Victims of War.




EventView Page

Animal Rights Calendar

.Saturday.
21st Nov 15

10:00
to
16:15

South West Christmas Without Cruelty Festival

This well established event offers visitors the chance to buy their Christmas cards and innovative cruelty-free and eco-friendly gifts in the sure knowledge that they will be supporting good causes and creative local companies.

Products available are likely to range from fair-trade clothes and jewellery to cosmetics and skin care products, handmade chocolates, games for children, wildlife photographs and Devon grown olive trees.

10am to 4:15pm at the Corn Exchange, Market Street, Exeter, EX1 1BU. Free entry.

.Sunday.
22nd Nov 15

11:00
to
17:00

WinterFest Leeds

The organisers of the Great Yorkshire Vegan Festival in June are excited to announce their first ever Christmas festival! - 22nd November 2015 - Leeds Town Hall.

This brand new indoor ethical and animal friendly Christmas market will feature a wide range of stalls offering ethical all year round and Christmas products and gifts, something for everybody. Details on Winterfest Leeds facebook page.

EventView Page

WinterFest Leeds 2015 . Ph: 07590 621062 / 01697 345054 . Email: info@yorkshireveganfestival.com.no-spam (Remove the no-spam filter from the address)



back to top
next date
add-a-date


December 2015

.Tuesday.
1st Dec 15

to

Thursday
24th Dec

Cruelty-Free Christmas Campaigning

.Saturday.
5th Dec 15

to

Sunday
6th Dec

VegFest Scotland

Europe's prime vegan festival Vegfest arrives at SECC, Glasgow, on December 5th & 6th.

The 2 day vegan food fest is part of a brand-new Glasgow-based venture The Only Way is Ethics comprising an eight day festival exploring, promoting and celebrating ethical choices affecting all aspects of living.

Vegfest organisers say: "We're beyond elated to be given the opportunity to bring our vegan festival and hence the benefits of healthy eating and vegan lifestyles to Glasgow this year. We're also privileged to be invited to organise a show at a venue as prestigious and high-profile as the SECC, and we're very excited at the prospect of making this show a huge success."

Vegfest Scotland organisers added, "Vegfest Scotland is all about going vegan. It's not about eating less meat, or choosing eggs over fish, or anything like that. It's about going vegan, pure and simple. It's a single issue campaign. Go Vegan. For the planet, for the animals, for your health, and for sustainable global food production. And it's so easy. Vegfest Scotland will demonstrate just how easy it is to go vegan and stay vegan."

EventView Page

.Sunday.
6th Dec 15

10:00
to
17:00


Food by Veggies

Animal Aid's Christmas Fair

Animal Aid's annual Christmas Fair will be on Sunday 6th December 2015 at Kensington Town Hall, Hornton Street, London, W8 from 10am until 5pm. (The closest tube station is High Street Kensington.)

The Fair will feature more than 100 stands promoting ethical living and cruelty-free products – representing campaigning groups, animal sanctuaries, ethical companies and food outlets plus a program of talks and events.


EventView Page

Animal Aid . Ph: 01732 364546 . Email: info-at-animalaid.co.uk

.Thursday.
10th Dec 15

International Animal Rights Day

A day for events across the world, calling for fundamental rights to be bestowed upon non-human animals by 2048 (100 years after the Declaration of Human Rights on this date).

Groups are encouraged to hold candle-lit vigils outside local sites of animal abuse, campaign stalls or other outreach events to highlight links between human and animal rights.


EventView Page

.Friday.
25th Dec 15

Merry Christmas from Veggies!

Everything you need for a compassionate, animal and earth-friendly holiday feast is right here, from traditional roast dinners to modern fusion food – with (jingle) bells on!

Vegan Christmas Guide from Veggies, updated with recipes, vegan fairs, shopping, family friendly tips and Veggies new Nut Roast!

Viva's Go Veggie Christmas


Veggies Catering Campaign . Ph: 0845 458 9595 / 0787 086 1837 . info@veggies.org.uk

.Saturday.
26th Dec 15

Boxing Day Anti-Hunt Demos

Animal rights groups oppose the flouting of loopholes in the law that results in hunts continuing to kill. It is for this reason that wildlife protection group, including the hunt saboteurs, need to monitor the situation and to intervene to save lives where necessary. See Boxing Day - the public face of fox hunting.

The Hunt Saboteurs Association is a non-violent direct action organisation which has been dedicated to getting between the hunters and their quarry for over 40 years, and we know better than anyone what illegal hunting looks like – it just seems that no-one else seems to care. Contact your local group via the Hunt Saboteurs Association. Press enquiries please call: 07774 279133

See also the League Against Cruel Sports

Details of Boxing day hunt meets may be found via http://mfha.org.uk/pack_directory/.


EventView Page

Hunt Saboteurs Association . Ph: 0845 450 0727 . Email: info@huntsabs.org.uk.no-spam (Remove the no-spam filter from the address)



back to top
next date
add-a-date


January 2016

.Friday.
1st Jan 16

New Year's Day Anti-Hunt Action

Hunt saboteurs will, as ever, be preventing hunts from catching and killing animals.

Rather than focus on banner waving demos, saboteurs will blow hunting horns, imitate the huntsman's voice calls and use harmless scent dulling sprays that mask where the fox or hare has run.

EventView Page

Hunt Saboteurs Association

.Friday.
1st Jan 16

to

Sunday
31st Jan

Veganuary

Everyone's going vegan for January

Veganuary, in association with Viva! invite you to eat delicious, healthy food, save lives and help the environment. Join thousands of people going vegan for the month of January.

If you're not currently vegan this is the perfect opportunity to try! Veganuary's great resource of recipes, health and nutrition tips, and loads of other useful stuff will help guide you through …. It couldn't be simpler with a 31 full days' worth of menu ideas.


Full details at Event Web Site.



back to top
next date
add-a-date


February 2016

.Monday.
1st Feb 16

to

Thursday
18th Feb

Rememberance for Animal Activists

In remembrance of Jill Phipps, Gari Allen, Mike Hill and other friends of the animals that we have lost, all groups and individuals are urged to take action on behalf of the animals.

You could organise a vegan food event, a campaign/info stall or a public showing of an animal rights film, such as 'Behind the Mask' or Jill's Film.

You could join the Badger Cull Protest March, support live exports vigils in Ramsgate or fur protests in London & elsewhere, campaign against Greyhound racing in Manchester, or anything more on your own initiative.


EventView Page

Jill's Day . Ph: John: 07771 953465 . Email: info=at=jillphipps.org.uk



back to top
next date
add-a-date


March 2016

.Tuesday.
1st Mar 16

to

Thursday
31st Mar

Veggie Month

Go veggie!

There are many reasons to go veggie including animal welfare, health, environmental protection and cost.

If you are concerned about one or more of these issues, why not take the opportunity to try some more meat-free meals during March or take the veggie challenge? Find support from veggie campaigners in your area from Veggies Networking Directory.

If you are already veggie... go vegan!


EventView Page

Animal Aid . Email: kelly+at+animalaid.co.uk

.Sunday.
20th Mar 16

Meatout

Join people in all 50 US states and around the world who care about animal suffering and global warming by hosting an event on (or around) March 20th.

Full details at Event Web Site.



back to top
next date
add-a-date


April 2016

.Friday.
1st Apr 16

to

Saturday
30th Apr

Animals in Laboratories Month

Opportunities for local campaigning.

Send your event details for Veggies Animal Rights Calendar.

Find your local group from Veggies Directory or Animal Rights UK to support activities in your area.


EventView Page

.Monday.
4th Apr 16

World Rat Day

Cavy Rescue, a small animal shelter, invites rat lovers to celebrate World Rat Day in the UK.

All true fans of the pet rat know that these dear, sweet animals deserve greater recognition and admiration, and that their image suffers from ignorance and unthinking prejudice.

World Rat Day can be a day to win back some respect to rats through positive promotion, or at the very least, it will be a special day to offer delicious treats and fun gifts to our pets, making some rats very happy and getting some cute photographs in the process!

To offer a home to a rat (or any other homeless animal) check the Animal Rescue section of Veggies Directory or Cavy Rescue.

Full details at Event Web Site.

.Saturday.
16th Apr 16

Birmingham Wildlife Festival and Badger March (TBC)

Following the successful 2015 event April 16th 2016 has been suggested as a Provisional Date for the 3rd Birmingham Wildlife Festival and Badger March.

.Saturday.
23rd Apr 16

to

Saturday
30th Apr

World Week for Animals in Laboratories

The week that surrounds April 24th every year sees street stalls, media events and protests at laboratories to stop testing and research on animals, with many opportunities for local campaigning across the UK.

.Sunday.
24th Apr 16

World Day for Animals in Laboratories

World Day for Laboratory Animals is a United Nations recognized day of international commemoration of the suffering and killing of millions of innocent sentient beings in laboratories throughout the world.

Campaigning organisations in the UK and across the globe, will mark World Day for Laboratory Animals, a time to reflect upon the pain and suffering caused to millions of animals all in the name of a fraudulent scientific practice - a practice that is not only is so cruel to the animals so horribly abused and killed by vivisectors but a practice that so cruelly gives false hope to those with illness and disease.

In 2015 the call is for local groups to join together in organising regional demos to mark World Day.




EventView Page

World Week of Action for Animals in Laboratories . Email: info@wwaail.org.no-spam (Remove the no-spam filter from the address)

67 events listed

back to top -:- add-a-date -:- Email the editor

If you find the Animal Rights Calendar useful
we welcome donations towards our online and networking expenses

The Animal Rights Calendar is compiled by Veggies to co-ordinates animal rights campaign events throughout the UK.

Event details are as submitted. Events are not organised by Veggies and Veggies are not responsible for the details listed.";

---

For campaigning advice, see www.freebeagles.org - the legal resource centre for UK political campaigners.

See the The Animal Activists Handbook, for tips on running a successful camapign and the Troubleshooter's Guide to Staging an Event.

Publish your news -:- Other group's diaries -:- Other Social Centres

Support vegan animal rights prisoners of conscience.

Email the editor -:- work-in-progress -:- -admin-

The WebCounter from www.digits.com is currently :

A Google listing of all the nice people linking to this page