Field catering by Veggies Catering Campaign, with a Veggies Cafe, tuck shop and cake bakery!








Non-violence begins on your dinner plate
To help with the catering, please contact us



We've got

to get ready!

Vegan Cake Baking skillsharing & 'Vegan catering for the masses' workshops - "Practical hands on skill share preparing meals for hundreds, informal discussions on setting up & running an action kitchen, with tips for running a catering cooperative for all kinds of events".

For for inspiration read our Peace News Camp 2010 Report

Peace News Summer Camp Website

2013 listing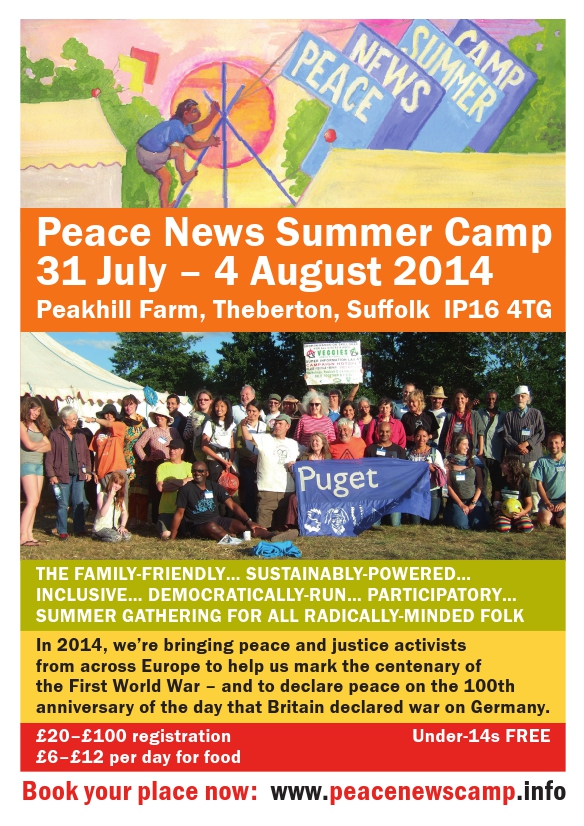 Peace News Summer Camp, is an annual five-day, family-friendly event that attempts to extol the virtues of a democratic, participatory, renewably-powered and environmentally sustainable society.

The event offers an opportunity for a broad spectrum of people, such as activists, community organisers and others who are working for and exploring radical social change, to come together and develop their intentions, priorities, knowledge, strategy, skills and networks in support of their different movements.

Examples of such movements might be anti-racist, environmental, global solidarity, anti-war, feminist, localisation, anti-cuts, counter-militarist, disability, LGBT, food sovereignty, and radical health.

At the event will be workshops and discussions, practical skills sessions, vegan food, music, film, participatory entertainment, a bar, a campfire, and activities and facilities for children and families.

See Peace News Summer Camp Website for more information.







"Whilst there are slaughterhouses, there will be battlefields" – Tolstoy




Click here to read why War Kills Animals Too





---


To get to this event, 160 miles from our Sumac Centre base, Veggies may emit approx 200kg CO2.

However by helping 250 people Eat Vegan for 5 days we could "offset" 5000 kg CO2.

If ONE customer goes Vegan For Life, (as has happened at previous PN Camps), they will save 1.5 tonnes CO2 every year, as well as saving 4022 animals lives, and enabling all the world's peoples to receive a Fair Share of the world's resources. [carbon calculation references]



For directions, click here and replace our starting postcode with yours!





---

Veggies will be at this event - Sign Up to join our crew.
If you'd like us to bring you any of our foods, literature or campaign goods, some of which are on our online shop please contact us with details


---

Whenever possible Veggies feature the publications of the Movement for Compassionate Living, which we print and distribute to promote simple living and vegan self-reliance as a remedy to the exploitation of humans, animals and the Earth.
We also support our nominated charity, Vegfam, 'Feeding the hungry without exploiting animals'. If you can help us with either of these projects at this event, whilst we are busy with Veggies catering, please email pat@veggies.org.uk.
---
Postcode: IP16+4TG . Mapping websites: http://maps.google.co.uk . http://www.streetmap.co.uk . http://www.multimap.com (photo)
Note: Maps are based on postcodes which can cover a wide area, especially for rural locations.
Public Transport details may be available from http://www.traveline.org.uk/
Concerned about carbon emmisions? click here