Thursday
1st January 1970
starts
1:00
THE NEW CALENDAR WILL REDIRECT IN A FEW MOMENTS.


See also current events - latest update and local animal rights group meetings

To add details of your event, click here.

Updated : 9th March 2008 .
entries or recently
where flagged.
---
Campaigns initiated throughout the year on many issues. See details of demonstrations, workshops and street collections on their Events Diary and Action Alerts (RSS feeds).

Animal Aid contacts hold street info stalls and run local campaigns. Contact your local roup via Animal Aid

Find other animal rights contacts in your area from Veggies Directory


---
Bantin & Kingman

Suppliers of animals, technicians, equipment and feeds for the vivisection industry at B&K, The Field Station, Grimston, Aldborough, Hull HU11 4QE, (at Garton on B1242, Hornsea to Withernsea), E Yorks . [map]

Bantin & Kingman Universal Ltd is situated on an isolated clifftop on the east coast near Hull. They breed beagles and other small animals for the vivisection industry, in fact they boast that they can supply any part of any animal to order, as well as supplying lab technicians and torture equipment.


---
Bio-Sciences Conferences

The BioIndustry Association, the trade association for innovative, emerging small to medium sized enterprises in the UK's bioscience sector, have kindly launched a website which lists opportunities for topical debate about emerging trends and key issues - plus excellent networking opportunities. Check out the events listing here.

The Royal College of Pathologists arranges an extensive programme of scientific meetings to serve the interests and meet the needs of pathologists. Check out the events listing here.




---
BIBRA Labs

British Industrial Biological Research Association, Woodmansterne Road, Carshalton Beeches, Surrey, SM5. [map] [Nearest Station/s: Carshalton Beeches, Sutton].


---
Brighton Sealife Centre
Demos every Sunday outside the Brighton Sealife Centre.

Details here or at Brighton Animal Action website: http://www.brightonanimalaction.org/SeaLife%20Centre.htm


---
Circus (and Zoo) Campaigns

Some local groups already organise demos when a circus is in their area but CAPS would like to get this better co-ordinated. If you see a circus advertised in your area let CAPS know immediately, and organise demos. CAPS have a comprehensive list of where circuses will be to help plan your campaigns. CAPS also has detailed profiles on each circus and can supply leaflets, posters etc.

Many circus tours follow the same circuit each season, logged on the Animal Rights Calendar at http://www.veggies.org.uk/ar/circus

Captive Animals' Protection Society
Ph: 0845 330 3911
Email: info@captiveanimals.org
Website: http://www.captiveanimals.org


---
Covance laboratories.
Otley Road, Harrogate . [map]

Covance Campaign
Website: http://www.covancecruelty.com/


---
Foie Gras Campaigns
Foie gras or "fatty liver" is a continental food the production of which is effectively banned in the UK due to the extent of cruelty involved. Unfortunately it is still legal to sell imports, and a small number of unscrupulous restaurants continue to do so.

Regular demos are held in London and Nottingham

For more information on Foie Gras, see: http://www.viva.org.uk/campaigns/foiegras and the guide to retailers throughout the UK, at http://www.geocities.com/diseasedlivers/


---
Fur Campaigns

Coalition to Abolish the Fur Trade
PO Box 38, Manchester M60 1NX
Phone: 0845 330 7955 / Press:07761 533152
Email: caft@caft.org.uk
Website: http://www.caft.org.uk



London


Demos on Saturdays at Harrods
For details email london@caft.org.uk


---
GlaxoSmithKline Laboratories


Other Harlan sites: Cambridge Farm, Cambridge Lane, off Hanging Birch Lane, Waldron, nr Horam, E.Sussex.



---
Hunting Campaigns

All around the country, all through the year the hunts are being watched for illegal activity.
If you spot anything suspicious, eg hounds & horses out in early morning, or in hidden locations inform your local Hunt Sab Group, and the HSA.

Hunt Saboteurs Association (HSA)
BM HSA, London, UK. WC1N 3XX
Ph: 0845 450 0727
Email: info@huntsabs.org.uk
Website: www.huntsabs.org.uk

Hunt Sabbing from London:
South & West: 07899 775 493

North & East: 07747 165 196

Croydon: 07956 359 891

Chiltern: 07980 124 186
For other local hunt sab contacts : Click here.


Hunt Watch
Local groups monitoring hunts to prevent or prosecute contravention of the Hunting Act.
Ph: 07952 550054 .
Email contact@huntwatch.info
Website: http://www.huntwatch.info



Roots-of-Blood Campaign
A campaign against the wildlife policy of the Woodland Trust, who allow hunting on their land.
For details email rob@roots-of-blood.org.uk
Website: http://www.roots-of-blood.org.uk



---
Stop Huntingdon Animal Cruelty


Campaigning to close down HLS Vivisection Centre at Wooley Road, Alconbury. [map] . [Photo]

Diary dates listed on main calendar and at http://www.shac.net/ACTION/dates.html

SHAC USA diary of events: http://www.protest.net/SHACevents/calendrome.cgi

Stop Huntingdon Animal Cruelty (SHAC), c/o FRIEND, 89 Bush Road, East Peckham, Tonbridge, Kent, TN12 5LJ
Ph:0845 458 0630
Email info@shac.net
http://www.shac.net/


---
Live Exports
Every shipment from Dover may be in excess of 6,000 live sheep, lambs or calves, destined for Italy, Greece, who knows where?

Dover Demos : First Saturday every month. 12noon - 3pm at Eastern Docks roundabout. Please register attendance - phone Compassion In World Farming (CIWF) on 01483 521950 or email info@ciwf.co.uk . See also http://ciwf.blogspot.com/

Vigils are usually held on Tuesday, Wednesday and Friday nights from 10pm, whenever there is a sailing from the port of live animals on the designated livestock ships.


Everyone can help by looking out for transporters on motorways, A-roads and service area. If you see a truck, try and get the number plate, the time, date and location, and phone/txt 07968 134489 or 07775 682420 . (Write down these numbers, or put them in your mobile phone now).

For further information please call KALE's newsline on 01304 204688

The website of Kent Action agaignst Live Exports also contains useful info, (although it has not been recently updated, except for the news reports section).


---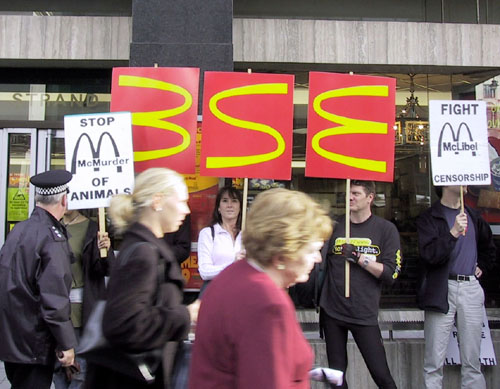 McDonalds posted the first losses in their over-long history in 2006 and faced an unprecedented number of store closures. All their supposed 'wins' in the McLibel Trial were negated by the European Court of Human Rights. On top of all this campaigners are regularly picketting London stores!

Anti-McDonalds demo most Thursdays and especially on last Thursday monthly at McDonalds, 25-27 Shaftesbury Avenue, London W1 from 6pm.
To confirm that the demo is on text or phone 07960 036044 or email antimcdonalds@doramail.com


---


Large biomedical laboratory. The thousands of animals currently tortured at this government-funded laboratory include guinea pigs, rats, mice, chicks, frogs, birds and fish.

Picket every Wednesday from 6:30 pm at The Ridgeway, Mill Hill, London NW7 . [map]. The nearest underground is Mill Hill East and the 240 bus stops right outside NIMR.

Ph: 0771 3403694, 0781 3367289, 0796 0036044


---
NIRAH
Campaign against proposed National Institute for Research into Aquatic Habitats aquarium and research facility. See info at www.captiveanimals.org

Bedford Animal Action: 07779 129269
Email: info(at)bedfordanimalaction.org
Website: http://www.bedfordanimalaction.org/


---
Speak Out Against Vivisection
After failing to build a primate vivisection lab at Cambridge (SchNEWS 439), mad scientists are now trying a more subtle approach by building an 'animal housing facility' at Oxford University, which will (surprise!) be doing some of the same research that was going to be done at Cambridge. In a desperate attempt to hoodwink the public, the new project has been euphemistically called a research 'hotel' in the planning application. Some Hotel! Where you get kept in solitary wire cages, injected with drugs, deliberately brain damaged and then killed. In response to this latest development, the campaign that stopped the Cambridge lab has been resurrected to fight the new proposals.

Demos every Thursday 1pm to 5pm at the site of the proposed new laboratory in Oxford. For further information contact SPEAK.

Speak Campaign
PO Box 6712, Northampton, NN2 6XR
Ph: 0845 330 7985 / 07906 497317
Email: info@speakcampaigns.org
Website: http://www.speakcampaigns.org


---
Stop Sequani Animal Testing (SSAT)

Sequani animal testing laboratory are at Bromyard Road, Ledbury, Herefordshire, (near Ledbury train station) [map].

Once called Toxicol, then Quintiles and now Sequani; the names have changed, but they're still testing on animals at the Sequani Labs in Ledbury, Herefordshire.

The labs are located within 'spitting distance' from the Ledbury train station (turn right upon leaving the train sation parking lot). You can't miss it! Locked up like the Crown Jewels with CCTV and mile-high fencing, it is located on the left hand side of the road just a few hundred yards from the train station. Ledbury is also served with buses from both Hereford and Worcester and other surrounding areas.

Website: http://sequani.wordpress.com/


---
Trafalgar Square - Feed The Pigeons

The plan of Mayor Ken Livingstone and the Greater London Assembly to rid the Square of pigeons has already caused weakness & death, the pigeon food seller having been paid off.

The Pigeon Action Group believes that the reduction of food is causing many birds to suffer and need help with a daily rota to maintain feeding, to transport food and to take sick birds to Pigeon Recovery.

Pigeon Action Group
C/o The Old Schoolhouse, 10 Main Street, Coveney, ELY, Cambridgeshire, CB6 2DJ
Ph: 020 7328 7665 / 07779 465356

----- -----





Save The Trafalgar Square Pigeons group (STTSP) campaigns on behalf of the pigeons in Trafalgar Square.
It has been in negotiation with the GLA regarding the feed reduction programme. It's members feed the pigeons each morning at 7.30am. If you can help please contact them.

Friday April 27, 2007 : Guardian Unlimited
The campaigning group Save the Trafalgar Square Pigeons suffered a setback in court this week when it tried unsuccessfully to sue Mr Livingstone's Greater London Authority.

Save the Trafalgar Square Pigeons
STTSP, BM Pigeon, London WC1N 3XX
Email info@savethepigeons.org
Website http://www.savethepigeons.org

----- -----

Van Vynck Avian Solutions are employed by the Greater London Council (GLC) to use hawks to terrify and kill pigeons on the Square. Details of the company appear below. Please contact them by phone, email or fax telling them they are not welcome on Trafalgar Square. You can always tell them face to face, the hawkmen are always on the Square from 11.00am until 3.00pm, seven days a week:
Van Vynck Avian Solutions
The Tack Room, Lorkins Farm, Conways Road, ORSETT RM16 3EL
Tel: 01375 893143; Fax: 01375 893841
Email: info@vanvynckpestcontrol.co.uk


Please write to Ken Livingstone to insist that any food phase-out programme should not cause any suffering to the pigeons, and insisting that he put a stop to the hawkman.

Ken Livingstone, Greater London Authority, City Hall, Queen's Walk, London SE1 2AA


----- -----

See also Animal Aid's news bulletin (Sept'03): http://www.animalaid.org.uk/news/2003/0309pige.htm


---
Uncaged Campaigns Against Vivisection


Uncaged uses a persuasive combination of intelligence, dignity and compassion in our work to help protect animals. Our campaigns are peaceful and democratic.

Key events include Boycott Proctor & Gamble Day in May and International Animal Rights Day every 10th December. Street stalls for awareness and fund raising are held throughout the year.

Contact Uncaged Campaigns via Veggies Directory.


---
Wickham Research Laboratories

Campaigning for the animals suffering in their thousands at Wickham Research Labs in Hampshire.
Regular pickets to greet the workers [map]
Phone the labs on 01329 832511 or fax 01329 834262 to protest against cruel, unnecessary and unscientific experiments on animals . (Wickham Labs website)

Contact Stop Wickham Animal Testing (SWAT), c/o PARG, Avalon, 73 Fawcett Road, Southsea, Hampshire, PO4 0DB or Gosport and Fareham Animal Rights Group, c/o 26 Brune Lane, Rowner, Gosport, Hampshire, PO13 9RA. Ph: 023 9258 8516
---
Event Organisers are urged to send event details or phone on 0845 458 9595 before setting dates to avoid clashes, and as soon as a date is set, for details to be added to this nationally co-ordinated calendar.

Contacts information is available from The Animals Contacts Directory; which is also compiled by Veggies.