ALL EVENTS ARE SUBJECT TO CANCELLATION
We are not able to update all listings here.
Please follow links through to the organisers own event information for updates.
United Friends & Families Campaign annual rally: online
Saturday 31st October @ 13:00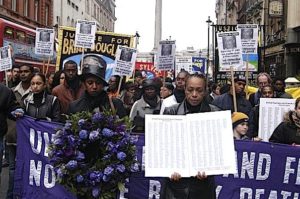 The United Families & Friends Campaign (UFFC), is a coalition of those affected by deaths in police, prison and psychiatric custody, supports others in similar situations.
Established in 1997 initially as a network of Black families, over recent years the group has expanded and now includes the families and friends of people from varied ethnic and cultural backgrounds.
Many of the campaigns for justice have been infiltrated and undermined by undercover officers from Britain's political secret police. Resources that should have been spent catching killers and preventing further deaths were instead used to protect the guilty and undermine justice.
UFFC holds an annual rally at the end of October. This year, because of Covid 19 restrictions, the rally will move online.
Families are making short video clips of the story of their loved ones. These will all be edited together and released across all UFFC and partner platforms at 1:00pm on Saturday 31st October 2020.

Print Friendly