Jump to: Vegan Christmas Festivals and Fairs . Shopping . Not Shopping
Read on for Recipes and a whole lot more…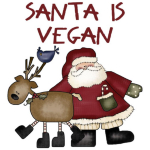 A request for a vegan Christmas pudding recipe was the starting point for a round-up of references for all your vegan Christmas enquiries.
The first stop on our tour takes us to the Yuletide recipes and advice from the Vegan Family's Christmas website, with everything from Cashew Nut Roast with Sage and onion stuffing to the Christmas Pudding recipe.
You'll find lots of other useful advice at the VeganFamily site, including info for kids, a full range of family-friendly recipes, shopping sites, books and more, and there's an Easter section too. To be honest their site is much better than this!



Some recipes include vegetarian suet, made from palm oil. If you'd rather avoid palm oil to protect the forest home of threatened urangutans, try the suet-free Christmas pudding recipe from the Vegan Society's Christmas section. (More info on vegetable suet from Veggies)
Other good sources of information include:
VeggieKids, a project of Viva!, is a one-stop shop for young veggies or vegans — and their parents and carers. For a free download of their recipe booklet, written by children, which includes Chocolate Pudding Cake and a Cashew Mushroom Roast, visit the Veggie Kids website.
For recipes for such delights as Tofu Turkey, a speciality of our Steve, and Christmas Cup Cakes, visit the Vegan Easy website.
Cooking For Vegans offer good advice on how to accommodate vegans and omnivores at the same meal on their Vegan Christmas Dinner site.
Christmas recipes are provided by Animal Aid, the Vegan Society and Viva! for starters, main dishes, side dishes, stuffing, gravy and desserts.
The Vegetarian Society also have some nice Christmas recipes, not all of them are vegan but they label the ones that are or can be made vegan. Start with the Christmas Pie, then put 'Christmas in the search box to look through over 50 other recipes.
Check out vegan-run companies for their recipes and specialist products, such as the "Turk-ish" Christmas Strudel recipe by Fry's or VBites (Redwoods) Celebration Roast, part of their Festive products range.
Vegetarian and Vegan France even have a recipe for Christmas Pudding Porridge. They say that this is not as ridiculous as it may seem, as before the 16th century porridge was the original christmas pudding – dried fruit and spices work as well in porridge as in a pudding!
For many more ideas simply add 'vegan recipe' to anything you fancy on an internet search, often finding good results on the BBC Food website, which currently includes 1148 vegan recipes!
Adrian's Vegan Christmas website includes:
Vegan Christmas Fairs
These events from the the Vegan Outreach Diary provide an excellent opportunity to find dozens, or even 100+ vegan friendly groups and businesses under one room, often with free food samples, talks, films and cookery demonstrations too.
More Christmas Shopping
You'll find lots of Christmas Treats from these vegan stores:
For vegan chocolate, sweets & snacks from a grass-roots vegan campaigner, support Lakeside Ethical Treats
For new and exciting, all-vegan products including a Christmas Plum Pudding, Advent Calendars, Chocolate Apricots and Chocolate Coin Bags visit the Animal Aid Shop
Choose gifts for life from the Viva Shop and the Vegan Society Shop.
Find Kids books, t-shirts chocolate and more at Veganfamily.co.uk. They also have links to other ethical shopping sites.
Vegan Christmas Gifts from Shop Vegan include perfumes, shoes, Booja Booja Chocolates and even give sponsorship for Hillfields Animal Sanctuary.
For Holy Cow Chocolate Santas, Chocolate Xmas Tree Decorations and a whole the more visit the Vegan Store.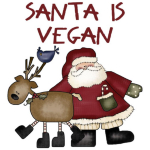 For Santa Is Vegan Christmas T-Shirts And Gifts visit the Vegan owned & operated the Veggie Shirts (from the USA)



For more useful & random items Buy Stuff from Veggies, including Veggies Scoffer recipe book, an excellent stocking filler and tummy filler!
If you know other vegan, Christmas themed recipe sites, events or distinctive online shopping, please contact us.
Find more stuff to buy from Veggies …here…


Don't Buy Stuff At All…
Whilst this roundup aim to encourage (relatively) ethical consumer choices, another option is to 'Live simply so that all might simply live'.
Please give the gift of life with a donation to VEGFAM, to "feed the hungry without exploiting animals. VEGFAM helps people overseas by providing funds for self-supporting, sustainable food projects and the provision of safe drinking water.
---
Vegetable Suet
By the way, if you would like to use vegetable suet, consider this:
The supplier of Community Foods vegetable suet has provided the following information about the palm oil used in production of this product:
"Regarding sustainable palm oil we are a member of the Roundtable on Sustainable Palm Oil (RSPO) and our supply chain is validated to BM Trada. The palm oil we buy is "Mass Balance" and as such recognized as sustainable. "
"The palm oil we supply within our product is from the Mass Balance Scheme, which guarantees that for every kg of "non-segregated" palm oil which is sold an equivalent kg of "fully segregated" palm oil is manufactured and sold. This scheme is used to fund the growth in "fully segregated" palm oil plantations, so that supply can fulfill worldwide demand for "fully segregated" palm oil, which is currently not possible."
Read more about Palm Oil at Ethical Consumer
The formation of the RSPO has not been without criticism from various sectors, especially the environmental NGOs. The main issues flagged include: The impact of palm oil plantation expansion on the Orang Utan population; Destruction of tropical forest for the new oil palm plantation schemes in South-East Asia; The burning and draining of large tracks of peat swamp forest in Kalimantan, Indonesia. Wikipedea 29Nov12
---
For a comprehensive Vegan Christmas guide to recipes, vegan fairs, shopping, family friendly advice & more, visit & RT veggies.org.uk/2012/11/vegan-…

— Veggies Catering (@veggiesnottm) November 19, 2012
Published on: Nov 19, 2012 @ 1:33
Re-published on: 11-Nov 12, 2013 @ 23:28
---