After an active period travelling all over to support everyone else's vegan festivities, ending with the Worcester Vegan Fair, Veggie are looking forward to kicking back on Saturday 21st December.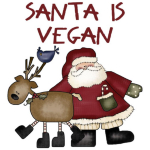 Our friends at our Sumac Centre home base will be celebrating the longest night of the year with a festive bring-a-dish-mega-meal at the Sumac Centre!
The bar will be serving mulled wine and mince pies along with it's usual fare, we'll have fire in a barrel in the yard for you to warm your hands and there'll be fairy lights, bunting and candles galore as we transform the centre into a festive wonderland.
The sumac cafe will provide enough roast potatoes and gravy to feed the masses but the rest is up to you!
So bring a vegan dish to share of your festive favourites, savoury or sweet, and join in the feast!
This isn't a regular People's Kitchen and there are limited spaces for the meal so if you'd like to be part of it, please buy your ticket in advance.
We have 50 tickets which we'll be selling at the bar over the next two weeks or you can reserve your ticket by emailing sumaccafe@gmail.com. There's a suggested donation of £3 and all money raised will go towards the new Sumac boiler fund so feel free to give more if you can!
To ensure you get a slice of ALL the action, arrive on time at 7pm.
We'll be decorating the centre, chopping, baking and generally merrymaking from 2pm so come get stuck in!
Christmas Day
There are also a few spaces at the Christmas Day get-together at Sumac Centre on Wednesday 25th December. Veggies' Chrissy is heading up a vegan Christmas Feast, to contribute between £5 & £10, according to their means.
For more info or to express your interest contact us.
…more…
For more ideas and info to celebrate a Caring and Compassionate Christmas. visit our Vegan Christmas blog.
That's all folks, for 2013, but we already have over a dozen events on Veggies 2014 events diary, including our own 30th Anniversary!
So, our thanks and best wishes go out to all our volunteers, friends and supporters. If you can't make it to one of the end of year celebrations, we look forward to seeing you next year,
---