Veggies Catering Campaign registered (as Veggies Ltd) on October 18th 1984
Thanks to all that came to Party at Sumac on Satuday 18th October 2014.
See more Pics and all the news that' fit to print on our Party Diary Listing!
To mark 70years of @TheVeganSociety we'll have catered 70 events by our 30th anniversary on Saturday http://t.co/OT30WN6ZBu Join us & party!

— Veggies Catering (@veggiesnottm) October 14, 2014
70 Event Target Achieved!
By the date of our 30th Anniversary in 2014 Veggies catered 70 events to mark 70 years of the Vegan Society!
Vegan Society – established 1944
The Vegan Society was founded in November 1944 and we've made tremendous of progress since.
When Veggies first hit the streets of Nottingham in 1984, vegetarian were still seen as cranks and vegans were from another planet! Partly due to our work, and that of the Vegetarian and Vegan Societies, vegetarian food is mainstream and Vegan widely understood. Indeed it is reported that there are more google searches for "Vegan" than vegetarian, and more books published with Vegan in the title!
Veggies continues to support this major social change by taking accessible and popular catering to some 70 events each year – from campaign rallies to community festivals, from family celebrations to green gatherings. We offer tasty, wholesome snacks, as well as information exploring the links between diet, animal suffering and the environment.
Read about the history of veganism – far more than just 70 years – at the new Vegan Society website.
---
In this our 30th Anniversary Year, we remember other memorable dates that preceded us, and those that followed
PEDALS
The power behind Nottingham Cyclists
Pedals was founded in 1979 to encourage more people to use bikes and to campaign for safer and more attractive conditions for cyclists in the Nottingham area.
Pedals has helped to get Nottingham one of the country's largest network of urban cycle routes, making it possible for Veggies to cater smaller local campaign events by bike & trailer.
What better way to celebrate 35 year on the streets, than with Veggies Cake!
For more information on Pedals achievements since 1979 visit the History of Pedals pages.


---
Ethical Wares
Happy 21st Birthday to @ethicalwares, the fantastic online shop for cruelty-free footwear etc Try b4 u buy@ #WMVF2014 http://t.co/fb0jrqe6PC

— West Mids Vegan Fest (@WMVeganFestival) October 14, 2014
---
Manchester Vegans
A decade of monthly meetups!
@veggiesnottm @Veganniversary @TheVeganSociety This year is the 10th anniversary for @ManchesterVegan Society! A decade of monthly meetups!

— Manchester Vegan (@ManchesterVegan) July 27, 2014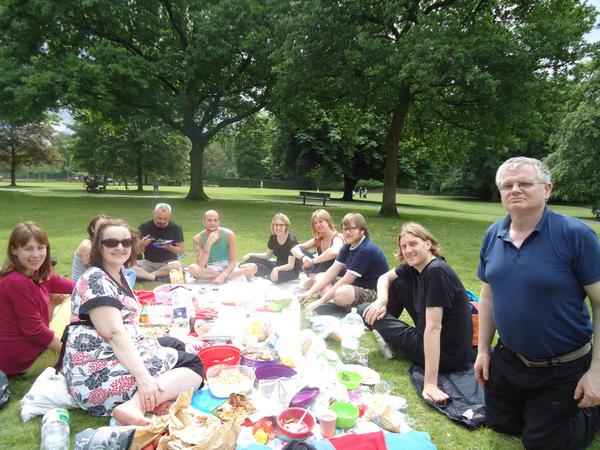 ---
Ethical Consumer 25th Anniversary

Ever since 1984 Veggies has aimed to be the most ethical company that we could be. This aim suddenly became a real possibility when the Ethical Consumer Research Association was launched 25 years ago.
Congratulations @EC_magazine. From 1984 we waited 5 years for Ethical Consumer to launch & subscribed from issue #1. http://t.co/5ca5UurBls

— Veggies Catering (@veggiesnottm) June 21, 2014
Veggies strives to be an ethical, wholefood supplier and stock only vegan food, with a preference for fair trade and/or organic where appropriate. Many of our customers share our concern to help animals, people and the planet.
We therefore have rigorous guidelines to help us avoid paying for goods and services which are known to cause harm, suffering and destruction.
This has been guided by Ethical Consumer since the publication of issue #1 of the magazine in March 1989.
Read more about this journey & see examples of our purchasing decisions.
See also 25 years of championing consumer ethics, Co-operative News 10 October 2014
---
Viva! 20th Anniversary
When Juliet Gellately founded Viva! back in 1994, she promised that they would campaign non-stop to save animals' lives, in whatever way was most effective, to the very best of their ability. We have shared that work and with your support, Viva! (and Veggies) have helped many people go vegetarian and vegan, thus saving thousands upon thousands of animals' lives.
To mark their 20th Anniversary Viva! are holding an Anniversary Dinner on Saturday, 20 September 2014
---
15 years of the FAIRTRADE Mark

15 years ago the first products bearing the FAIRTRADE Mark hit the shelves. In 1994 Green & Black's Maya Gold chocolate, Cafédirect medium roast coffee and three varieties of Clipper tea (all stocked by Veggies) were the first goods sold in the UK to carry the FAIRTRADE Mark.
By that time Veggies Catering Campaign had already spent 15 years using nothing but Fair Trade teas & coffees, ever since day one, sourcing (and distributing) it from pre-existing projects such as Tradecraft.
Thanks to its supporters, the Fairtrade movement has gone from strength to strength and today shoppers can choose from more than 4,500 Fairtrade certified products including cotton clothing, bananas, wines, ice-cream and cosmetics.
Follow the 15th Anniversary news on the Fairtrade Foundation website.
---
Hunt Sabs – 50 Years (and a bit more)

Hunt sabs from across the South celebrated the 50th anniversary of the Hunt Saboteurs Association (HSA) (on Saturday 18 January 2014) by converging on the South Devon Foxhounds at Dartmoor.
The hunt saboteurs can claim to be the longest running direct action organisation in the UK and have given many an activist their first taste of direct intervention.
The South Devon was the very first hunt the HSA disrupted, all the way back in 1963, using horn calls, sprays and even discarded meat to distract the hounds!
Read all about it at SchNEWS and on the HSA website.
---
Live Exports
On April 20th 2014: It is nineteen years since live animal exports resumed from Dover, with the exporters using their own ships after the ferry companies had banned them in 1994.
They had been running out of Shoreham since the end of 1994, but that was unsustainable as the geography of the place made it that there had to be 1,000 police officers every day to get the transporters to the port.
The Kent Against All Live Exports (KAALE) website has a report and several photos from those days. Kaale says: "We can win totally as long as we never forget just how it was and vow never to let it get back to those days."
Since those heady days when Veggies were regulars at Shoreham, Dover and Coventry Airport, we continue to support the campaign, listing the regular First Saturday Monthly protests on our Animal Rights Calendar, as well as the KAALE vigils, which are held whenever there is a sailing of live animals from Dover.
Donations may be sent to support the work of KAALE via either of these pages.
We also remember that January 15th 2014 should have been the 50th birthday of Jill Phipps whose life was so tragically taken whilst campaigning to protect veal calves heading for continental Europe via Coventry Airport.
Tuesday 1st 2005 was the 10th anniversary of the tragic death of the dedicated animal rights activist, Jill Phipps. As most people will be aware Jill campaigned tirelessly for animals in Coventry (her home town) and across the country. It was was whilst protesting against live exports at Coventry Airport that she died under the wheels of an export lorry.
Jill is remembered in several posting on Veggies Website
---
Plamil – 50 Years (well almost!)
@PlamilFoods Was it 1964? We should celebrate your #veganniversary alongside ours! We've favoured Plamil since 1984: http://t.co/OT30WNp8PC

— Veggies Catering (@veggiesnottm) May 30, 2014
In fact Arthur Ling formed Plamil to market The Milk of Human Kindness in 1965!
---
VegSoc – 167 Years!
Is this where it all began?
The founders of Veggies hatched their plans at meetings of Nottingham's Vegetarian Society and Nottingham Animal Rights Group in 1984.
Between then and now Nottingham Vegetarian & Vegan Society merged with Veggies, becoming the centre of Vegetarian & Vegan activities in Nottingham. Veggies is now the formal Local Group of the Vegetarian Society of the UK as well as an accredited member of the 'VegSoc Approved' Food & Drink Guild.
We particularly remember David Lane, a stalwart support from the start, who we sadly lost this year.
More History of the Vegetarian Society
happy birthday @veggiesnottm enjoy your cake it looks amazing 🙂

— Vegetarian Society (@vegsoc) October 18, 2014
---
70 Events in the 70th Vegan Year

Watch as we aim to clock up 70 Vegan Outreach Events in this our
30th Anniversary Year and the 70th Anniversary of the Vegan Society.

2014 Tour Dates

15/01'14 : Community Circle
11/02'14 : Community Circle
14/02'14 : Students for Cooperation
22/02'14 : Badger March Birmingham
26/02'14 : NFU Badger Demo
01/03'14 : State of Education
01/03'14 : Earth First Moot
19/03'14 : Community Circle
22/03'14 : Greenlight Festival
28/03'14 : MSD: Free the Laboratory Animals
05/04'14 : Awaken Inn
12/04'14 : LABL Liverpool Vegan Festival
13/04'14 : Lace Market Theatre
16/04'14 : Community Circle
17/04'14 : British Juggling Convention
19/04'14 : Melting Pot Cultural Food Fest
19/04'14 : Nottingham Hunt Sabs Jumble Sale
26/04'14 : World Day Rally, Nottingham
03/05'14 : Ashleyhay Festival
03/05'14 : Breaking the Frames Gathering
10/05'14 : London Radical Bookfair
10/05'14 : Great Yorkshire Vegan Festival 2014
11/05'14 : Veggies/Vegan Outreach Social
17/05'14 : Manchester Vegan Fair
18/05'14 : Nottingham Green Picnic
21/05'14 : Community Circle
24/05'14 : March Against Monsanto
25/05'14 : Ditch Diary Milk Race demo
31/05'14 : Belper Goes Green
07/06'14 : No Tomorrow Festival
14/06'14 : Picnic in the Park
15/06'14 : Spirit and Wellbeing Show
15/06'14 : Vegan Outreach Social / McLibel Screening
17/16'14 : Community Circle
25/06'14 : Glastonbury Festival
05/07'14 : Seeds for Change / Frack Free Notts
05/07'14 : Tour de Broxtowe
06/07'14 : Sumac Craft Fair
10/07'14 : Public Sector Strike Rally
12/07'14 : Bakewell Green Festival
13/07'14 : Bark in the Park
17/07'14 : Co-operatives East Midlands AGM
18/07'14 : Peace in the Park
18/07'14 : Goddess Camp
22/07'14 : Community Circle
24/07'14 : Northern Green Gathering
26/07'14 : Goddess Camp #2
31/7'14: Green Gathering
31/7'14: Peace News Camp
7/8'14: Animal Rights Gathering
8/8'14: Cycle Mania
10/8'14: Brinsley Animal Rescue
14/8'14: Reclaim the Power Sorry, we couldn't make it.
17/8'14: London Vegan Festival
19/8'14 : Community Circle
21/8'14: Shambala
28/8'14: Earth First Summer Gathering
3/9'14: Anarchist Studies Network
6/9'14: Grown Your Own
7/9'14: Wirksworth Festival
17/9'14 : Community Circle
21/9'14: Cromford Road Festival
21/9'14: People's Climate March, Nottingham
27/9'14: Keki Sidhwa's 88th Birthday
27/9'14: Nottingham Peace Fair
4/10'14: Alternative Eid Al-Adha
4/10'14: Feeding the 5000
18/10'14: Anarchist Bookfair
18/10'14: Emma & Remi's Wedding
18/10'14: Veggies 30th Anniversary
25/10'14: West Midlands Vegan Festival
30/10'14 : Community Circle
31/10'14: Students for Cooperation Gathering
8/11'14: Social Centres Gathering
21/11'14: Bread & Roses Weekend
26/11'14 : Community Circle
30/11'14: Brinsley Animal Rescue Open Day
6/12'14: Compassionate Derby
7/12'14: Animal Aid Christmas Fair
10/12'14 : Community Circle
13/12'14 : OpSafe Winter
14/12'14 : Sumac Crafts Fair
25/12'14 : Veggies/Sumac Christmas Dinner
70 Event Target Achieved – 82 events catered in 2014!
---
Thanks @Greens_Windmill for the #organic flour for cake baking for our 30th Anniversary, next Saturday @ #SumacCentre http://t.co/OT30WN6ZBu

— Veggies Catering (@veggiesnottm) October 10, 2014
Here's a card by @EVOLVECampaigns that you can send or receive when you sign up at http://t.co/ZTc6hHZano #vegan pic.twitter.com/IiaBLs37nA

— Veganniversary (@Veganniversary) May 21, 2014
---
It's our 30th @Veganniversary this year! http://t.co/OT30WNp8PC. Share your #Vegan #veganniversary @ http://t.co/ey3eUlp70T @TheVeganSociety

— Veggies Catering (@veggiesnottm) May 29, 2014