Jump to: Festivals & Fairs . Veggies Nut Roast . Shopping . Not Shopping
Read on for Recipes and a whole lot more…
A request for a vegan Christmas pudding recipe was the starting point for a round-up of references for all your vegan Christmas enquiries.
The first stop on our tour takes us to the Yuletide recipes and advice from the Vegan Family's Christmas website, with everything from Cashew Nut Roast with Sage and onion stuffing to the Christmas Pudding recipe.
You'll find lots of other useful advice at the VeganFamily site, including info for kids, a full range of family-friendly recipes, shopping sites, books and more, and there's an Easter section too. To be honest their site is much better than this!


Other good sources of information include:
Viva!'s Vegan Christmas Pages, including many recipes from their Vegan Recipe Club and Viva!'s mini-guide to a veggie Christmas which you can read online.
VeggieKids, a project of Viva!, is a one-stop shop for young veggies or vegans — and their parents and carers. Whilst not recently updated it is still worth a visit to the Veggie Kids website, though many of the resources are moved to a new location
More & current info for young veggies & vegans may be found from the TeenVGNs, including their Christmas Party on 20th December in Cardiff.


For recipes for such delights as Tofu Turkey, a speciality of our Steve, and Christmas Cup Cakes, visit the Vegan Easy website.
Cooking For Vegans offer good advice on how to accommodate vegans and omnivores at the same meal on their Vegan Christmas Dinner site.
Christmas recipes are provided by Animal Aid, the Vegan Society and Viva! for starters, main dishes, side dishes, stuffing, gravy and desserts.
The Vegetarian Society have a Christmas Guide, including some exciting Christmas recipes. Not all of them are vegan but they label the ones that are or can be made vegan.
Vegetarian and Vegan France even have a recipe for Christmas Pudding Porridge. They say that this is not as ridiculous as it may seem, as before the 16th century porridge was the original christmas pudding – dried fruit and spices work as well in porridge as in a pudding!
For many more ideas simply add 'vegan recipe' to anything you fancy on an internet search, often finding good results on the BBC Food website, which currently includes 842 vegan recipes!
To spread the word, the Vegetarian Society's Christmas Resources are available for individuals, or for stalls and displays, whilst their True Cost of Christmas report has more direct information on the plight of animals eaten in a traditional Christmas dinner. It is available as a pdf download.
Some recipes include vegetarian suet, made from palm oil. If you'd rather avoid palm oil to protect the forest home of threatened urangutans, try the suet-free Christmas pudding recipe from Fairfoods and/or Veggies Nut Roast (below). Read more about Palm Oil at Ethical Consumer.

Veggies Nut Roast

We at Veggies Catering Campaign have put together a nut roast, now available by mail order!
We have used 47% organically grown ingredients, all that can be, except the nuts. Organic nuts would make it prohibitively expensive, but we welcome feedback, or can consider special orders…
The mail order price is £5, enough for 2-3 generous portions, or £2.70 if bought in conjunction with other items.
See details of Veggies Nut Roast by mail order
---
For yet more info, Adrian's Vegan Christmas website includes:
VeganChristmas.co.uk/ was put together by the co-founder of Bluebird cafe Nottingham's almost vegan restaurant, where you can be assured of a great celebration meal.

Vegan Christmas Fairs
These events from the the Vegan Outreach Diary provide an excellent opportunity to find dozens, or even 100+ vegan friendly groups and businesses under one room, often with free food samples, talks, films and cookery demonstrations too.
More Christmas Shopping
Shop Kind this Christmas – Visit Viva!'s Vegan Shop! http://www.vivashop.org.uk/ pic.twitter.com/kgLTZYPaKD

— Viva! (@vivacampaigns) November 23, 2015
You'll find lots of Christmas Treats from these vegan stores:
Vegan Advent Calendars are available from Plamil, an all-vegan company, They also create dairy-free hampers for special occasions such as Valentines, Easter and Christmas.
For vegan chocolate, sweets & snacks from a grass-roots vegan campaigner, support Lakeside Ethical Treats
For new and exciting, all-vegan products including a Christmas Plum Pudding, Advent Calendars, Chocolate Apricots and Chocolate Coin Bags visit the Animal Aid Shop
Choose gifts for life from the Viva Shop and the Vegan Society Shop.
Find Kids books, t-shirts chocolate and more at Veganfamily.co.uk. They also have links to other ethical shopping sites.
Vegan Christmas Gifts from Shop Vegan include perfumes, shoes, Booja Booja Chocolates and even give sponsorship for Hillfields Animal Sanctuary.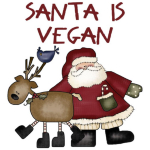 For Santa Is Vegan Christmas T-Shirts and Gifts visit the vegan owned & operated Veggie Shirts (from the USA).
For Holy Cow Chocolate Santas, Chocolate Xmas Tree Decorations and a whole the more visit the Vegan Store.
For more useful & random items Buy Stuff from Veggies, including Veggies Scoffer recipe book, an excellent stocking filler and tummy filler!
If you know other vegan, Christmas themed recipe sites, events or distinctive online shopping, please contact us.


---
A great vegan christmas message from Vodaphone.
To make Christmas even better, Vodaphone – Pay Your Tax!
Introducing #TerryTheTurkey breaking all Christmas traditions. https://t.co/9AF3yQktop

— Vodafone UK (@VodafoneUK) November 26, 2015
---
Don't Buy Stuff At All…
Whilst this roundup aim to encourage (relatively) ethical consumer choices, another option is to 'Live simply so that all might simply live'.
Please give the gift of life with a donation to VEGFAM, to "feed the hungry without exploiting animals". VEGFAM helps people overseas by providing funds for self-supporting, sustainable food projects and the provision of safe drinking water.
---
Vegan Christmas Guide, updated with recipes, vegan fairs, shopping, family friendly tips PLUS Veggies NEW Nut Roast! http://t.co/vSzV2VfGao

— Veggies Catering (@veggiesnottm) November 14, 2014
Published on: Nov 19, 2012
Update annually, including Nov 27, 2015
---