ALL EVENTS ARE SUBJECT TO CANCELLATION
We are not able to update all listings here.
Please follow links through to the organisers own event information for updates.
Demo at Undercover Policing Inquiry Hearings, London
Wed 11th November, 2020 @ 08:00

-

09:00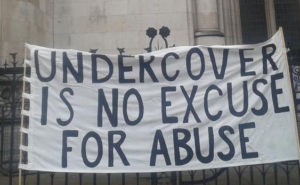 The public inquiry into Britain's political secret police is finally going to start. Join us for a socially distanced protest at the Inquiry's monitoring venue on the first day it's open, Wednesday 11 November, 8-9am.
Seven years after the Home Secretary promised it, the first phase of hearings will take place over three weeks in November.
Because of measures to restrict the spread of Covid-19, the hearings will not be held in an open venue, but will instead be happening remotely & online.
The first few days, starting on Monday 2 November, will be hearing opening statements from the various parties involved. These will be live-streamed online by the Inquiry.
After that, in order to prevent any secret details from being made public, the hearings will not be live-streamed. Instead, there will be a live transcription with a ten minute time delay.
The Inquiry is also hiring a venue – the Amba Hotel in Marble Arch, central London – where up to 60 people can watch a video stream in real-time with a ten minute delay. In order to be present, people need to register their interest with the Inquiry before 23 October, and even then registration does not guarantee entry.
We will be holding a socially distanced demonstration outside the venue on the first day of the restricted hearings, Wednesday 11 November, from 8-9am.
For more information about the Undercover Policing Inquiry, see our UCPI FAQ.

Print Friendly