ALL EVENTS ARE SUBJECT TO CANCELLATION
We are not able to update all listings here.
Please follow links through to the organisers own event information for updates.
Jill's Day
Wed 1st February, 2017

-

Sun 5th February, 2017
This is the time of the year that we remember Jill Phipps and other friends of the animals that we have lost. Groups and individuals are urged to take action on behalf of the animals.
Kent Against All Live Exports – Wednesday 1st February – Ramsgate
Ramsgate is the only port in England, if not the UK, to transport live animals abroad for slaughter. A Memorial for Jill has been every year since live exports started from Ramsgate back in 2011. We also remember Mike Hill hunt saboteur as his death anniversary is also in February (see further below).

Please come to Nethercourt Roundabout, Ramsgate CT11 0JX, to meet the cattle trucks for a Jill Phipps Memorial Vigil on Wednesday 1st February 2017 from 12pm to 3pm the 22nd Anniversary of Jill's murder by a live export truck driver and Coventry police.

Please bring banners and placards, pictures of Jill along with flowers, wreaths and purple ribbon to tie on the roundabout and in the vicinity. There will be a 2 min silence, wreath laying and speakers at this Memorial to dear Jill our friend and anti live exports activist. Please put this date in your diary and let's remember Jill who lived and died for the animals.
In memory of Jill and Mike Ramsgate campaigners are having an anti-vivisection stall in Ramsgate on Saturday 4th February for Animal, Human and Earth Liberation.
Meanwhile, we at Veggies will also be remembering Louis Stott, a much missed Veggies member, live exports campaigner, sanctuary volunteer & all round great guy, who we lost in 2016.
Birmingham – Wednesday 1st February
On the day of our fallen comrades anniversary West Mids Connection will be in town for a few hours leafletting and trying to recruit more people to join the fight for animal rights. At 12 noon they'll be raising a glass to Jill at 3 Threes, feel free to join them. Meet up point for the outreach is 1pm @ Bull Statue. If you are free please attend. Facebook event details.
Southend Animal Aid – Sunday 5th February
To mark the anniversary of Jill Phipps death, Southend Animal Aid will be showing 'Jill's Film', a documentary about her life as an animal rights activist and about her untimely death at a live export demo in 1995.

We will also be showing The Ghosts in our Machine, a film by Liz Marshall which follows activist and photo-journalist Jo-Ann McArthur who uses her camera to document the plight of abused and exploited animals and advocate for their rights as sentient beings.

Donation upon entry with the funds going to Tower Hill Stables Animal Sanctuary to help with their recent Piggie rescue.
Upcoming Animal Rights afternoon at the @RailwaySouthend in aid of @towerhillstable & to remember Jill Phipps https://t.co/WxVhGiooVI pic.twitter.com/Md2zkf36sf

— Southend AnimalAid (@southendanimala) January 23, 2017
---
You could organise a vegan food event, a campaign/info stall or a public showing of an animal rights film, such as 'Behind the Mask' or Jill's Film.
You could join a workday at you local animal rescue or F.R.I.E.N.D Animal Rescue, support live exports vigils in Dover or fur protests in London & elsewhere, campaign against Greyhound racing in Manchester, or anything more on your own initiative.

Jill Phipps Documentary from Animal Tv on Vimeo.
---
1st February for Jill Phipps
6th February for Vicki Moore
9th February for Mike Hill
18th February for Gari Allen
Jill Phipps
15 January 1964 – 1 February 1995
Extract from A Personal Tribute To Jill Phipps:
"Jill was a beautiful young woman at the height of her powers who loved and cared for all life, at 31 she was much too young to die and I am sure she will always be remembered with love by everyone who had the privilege of meeting her.
When the earth has been ravaged and the animals are dying, a tribe of people from all races, creeds and colours will put their faith in deeds not words to make the land green again. They shall be known as The Warriors of the Rainbow, Protectors of the Environment.
Jill was one of those people."
See also:
Jill Phipps at Wikipedia
Jill Phipps :: Memorial Website
and rememberance of Jill's mother, Nancy Phipps
---
Vicki Moore
1955 – 2000
In 1987 Vicki rescued the donkey 'Blackie' from death in a fiesta in Spain. She discovered that there were many thousand Blood Fiestas.
In June 1995, whilst videoing 'undercover', in the village of Coria, Spain, Vicki was gored by a bull. She was tossed into the air 10 times, gored 11 times in the chest, back, groin and legs. She also suffered a punctured lung, 8 badly smashed ribs and the loss of a kidney.
Despite being in constant pain, Vicki continued to campaign for the animal until her death in 2000.
From the website of Fight Against Animal Cruelty in Europe (F.A.A.C.E.), formed by Tony & Vicki Moore in 1987.
Sad to hear that Tony Moore has died. We worked with Tony to highlighted the cruelty of the Grand National http://t.co/JLLtp0TiXV @AnimalAid

— Veggies Catering (@veggiesnottm) January 8, 2015
---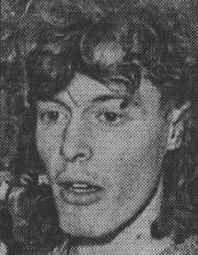 Mike Hill
At 4.00 pm Saturday 9th February, 1991 Mike Hill became the first hunt saboteur to be killed whilst trying to protect wildlife. Mike was only 18 and for two years lived and breathed animal rights, not just dogs and cats but every living creature. He was a vegan, worked at both Heavens Gate Sanctuary and Freshfields Animal Rescue Centre and was an active sab with Yeovil sabs and Merseyside sabs.
Mike was too nice a person for this world. There was no hurt nor malice in his soul. He thought good of everyone and everything. He was quite, unassuming, softly spoken and gentle. He lived and died for his beliefs.
From the A Tribute to Mike Hill
See also a-tribute-to-mike-hill-hunt-saboteur at Nectu Watch.
---
Gari Allen
Gari had been involved in the movement for well over 20 years, and was still very active on demos, stalls, meetings etc. He is without doubt the one person that we could say attended more events than anyone else we know!! Coach trips to events will never be the same again. He could almost invariably be seen at big marches shaking a tin raising money for Green Meadow Animal Sanctuary and selling purple lapel ribbons out of a bucket. In his home town of Coventry, he was heavily involved in cat rescue, neutering, rehoming etc.
When he died on 18th June 2006 the animals lost one of their greatest friends.
---
Also remember…
David Lane [1934 – 2014], pacifist & vegan advocate, without whom Veggies Catering Campaign would not exist. …more…
Louis Stott – a much missed Veggies crew member, live exports campaigner, sanctuary volunteer & all round great guy, who we lost in 2016.
Nancy Phipps. Nancy died on Friday 30th May 2014. A very caring and lovely person who was a great activist too. She will be greatly missed. …more…
Pam Kinnunen. Pam, who passed away on Sunday 17th August 2008 following a battle against cancer, will be remembered for her energy, warmth, sense of humour, positive approach to life and her unlimited compassion for animals and people. …more…
Neil Lea [1958 – 2007]. "Neil's strength and determination should inspire us all to continue the fight – no matter how tough it gets" …more…
Kevin Hickey [1972 – 2006]. Kev was involved in grassroots activism, for years, especially anti-fascism, class issues and later animal rights …more…
Friedenstern Howard. Frieden, a major character in active veganism, and a trustee of Vegfam, the charity that feeds the hungry without exploiting animals, for over 38 years died in April 2006 …more…
Barry Horne. 5th November is the anniversary of the death in prison of fellow activist Barry Horne. Barry died in Long Lartin prison in 2001 of liver failure, a direct result of three prison hunger strike protests against government policy on animal experiments …more…
Tom Worby, hunt sab, killed on Saturday 3rd April 1993 by huntsman Anthony Ball. Facebook remembrance . …more…
November 11th: And remember all the animals have suffered and died as a result of human conflicts …Animal Rememberance Day…