ALL EVENTS ARE SUBJECT TO CANCELLATION
We are not able to update all listings here.
Please follow links through to the organisers own event information for updates.
Remembering Blair Peach, London
Thu 21st November, 2019 @ 18:00

-

19:45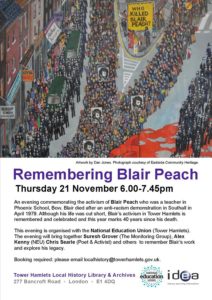 An evening commemorating the activism of Blair Peach who was a teacher in Phoenix School, Bow.
Blair Peach was a committed trade unionist, socialist, anti-fascist and teacher.
He died after being attacked by police at an anti-racism demonstration in Southall in April 1979. His loved ones' campaign form justice is one of those spied on by Britain's political secret police.
Although his life was cut short, Blair's activism in Tower Hamlets is remembered and celebrated and this year marks 40 years since his death.
The evening will bring together:
Suresh Grover (The Monitoring Group)
Alex Kenny (NEU)
Chris Searle (Poet & Activist)
and others to remember Blair's work and explore his legacy.
Date: Thursday 21 November, 6.00-7.45pm
Venue: Tower Hamlets Local History Library & Archives,
277 Bancroft Road, London E1 4DQ
Booking required: please email localhistory@towerhamlets.gov.uk
This evening is organised with the National Education Union (Tower Hamlets).
Spread the word with the Facebook event.
Artwork by Dan Jones.
Photograph courtesy of Eastside Community Heritage.