ALL EVENTS ARE SUBJECT TO CANCELLATION
We are not able to update all listings here.
Please follow links through to the organisers own event information for updates.
Sherwood Vegan Market – Monthly vegan market in Nottingham
Sat 8th January, 2022 @ 10:00

-

14:30
We are looking forward to Sherwood Vegan Market. It's organised by Adrian Bhagat, owner of The V Spot vegan supermarket, who has been vegan since 1994.
Everything sold or promoted at the market is suitable for vegans. Therefore we can enjoy a relaxed shopping and dining experience without having to worry about checking every product.
Our Aims & Values
Sherwood Vegan Market aims to:
Spark interest in veganism and encourage the adoption of a vegan lifestyle. This is kinder to animals and better for the environment
Provide access to a wide variety of vegan products
Give the community in Sherwood and beyond a chance for a day out
Help create a friendly and supportive vegan community
Promote Sherwood as a shopping destination and bring customers to local businesses
Promote the growth of vegan business through by providing trading opportunities
Encourage the generation of new vegan businesses. Providing an affordable, low commitment trading opportunity for vegan entrepreneurs.
Vegan Market 8th January 2022
The first Sherwood Vegan Market will be held in the Main Hall and car park at Sherwood United Reform Church.
While you are in Sherwood don't forget to visit the local vegan shops, The V Spot and Faux Butcher.
Time
Saturday 8th January 2022. 10am – 2:30pm.
Venue
Sherwood United Reform Church, 1 Edwards Lane, Sherwood, Nottingham. NG5 3AA MAP
Traders
Stallholders are listed on the Sherwood Vegan Market Event Page.
If you are a trader and would like to book a stall, please see booking information here.
For a directory of vegan market traders in Nottingham see Veggies' Nottingham Vegan Market page (not associated with this event).
Other Street Markets in Sherwood
Note that Sherwood Street Market also organise markets at this venue at other times, including their Last minute Festive Gifts & Food Market on December 11th.
They are not involved in the organising this Sherwood Vegan Market.
Looking forward to Nottingham's new fully-vegan Market@SherwoodVeganMk launches on Saturday 8th January and on 2nd Saturday Monthly. Everything sold or promoted at the market is suitable for vegans

Join us for #FoodByVeggies and other #vegan tradershttps://t.co/2MEdLKQ3cz

— Veggies Catering 🌱 💙 (@veggiesnottm) November 28, 2021
---
Veggies Catering Campaign will be catering at this event
Veggies Catering Campaign provides pure vegan catering for many campaign events, as well as festival, fairs & markets, and family celebrations.

The menu includes our own burgers, handmade at our Sumac Centre base from organic ingredients. We also have samosas, our own sausage rolls and vegan cakes, made by us from organic ingredients, including organic flour from Nottingham's Greens Mill.

Many consider Veggies to be one of the most ethical caterers on the circuit, with 35 years of experience in award-winning vegan / fair trade / organic catering.

To get to this event, 1.6 miles from our Sumac Centre base, Veggies may emit approx 2kg CO2.
However by helping 50 people Eat Vegan we could "offset" 100 kg CO2.
If ONE customer goes Vegan For Life they will save 1.5 tonnes CO2 every year, as well as saving 4022 animals lives, and enabling all the world's peoples to receive a Fair Share of the world's resources. [carbon calculation references]
---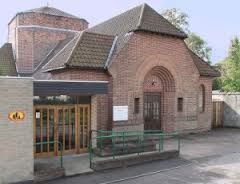 The venue, Sherwood United Reformed Church, is also available for hire.