ALL EVENTS ARE SUBJECT TO CANCELLATION
We are not able to update all listings here.
Please follow links through to the organisers own event information for updates.
Spycops Inquiry Demo, Online & Everywhere
Mon 2nd November, 2020 @ 00:00

-

23:59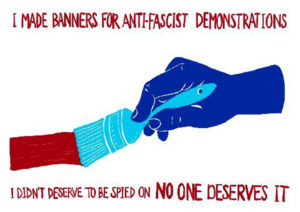 After years of delay, the Undercover Policing Inquiry is about to be holding its first hearings on Monday 2 November.
Because of Covid-19 restrictions, the first phase of hearings will be held virtually. The very first part, where various parties make their opening statements, will be live-streamed online, but after that – from Wednesday 11 November, once it starts taking evidence from witnesses – it will be limited to a real-time transcription with a ten minute time delay.
Join us on Monday 2 November, the opening day of the hearings, to make your voice heard. Take to social media, share your placards and pictures, your memories of campaigns and the spycops who infiltrated them, your hopes and fears for the Inquiry.
Show the Inquiry and the abusers it's examining that we are watching and that we demand truth and justice.
#SpyCopsInquiry
For more information about the Undercover Policing Inquiry, see our UCPI FAQ.

Print Friendly