These publications are described in more detail and may be read or downloaded from the Radical Routes website
How To Set Up A Workers Co-op
Although useful for all start-up businesses, the guide is particularly aimed at non-hierarchical, consensus-based, autonomous groups, who wish to keep their businesses in common ownership rather than working solely for private profit.
Launched in June 2015, the publication has been a huge success, drawing praise from all sections of the co-op movement as an inspirational, accessible and comprehensive guide for those trying to set up sustainable trading collectives.
The guide was largely written by members of the Seeds for Change training collective and Footprint workers' co-op, with advice and proof-reading support from several other parts of the co-op movement, particularly Co-operatives UK.
Buy Now or Read for Free
The 160 page guide is available from Veggies Bookstall at the Sumac Centre and out and about at Veggies Events (to arrange delivery at an event Contact Us).
Buy it now for £7.00 inc p&p

You can also download a free copy from Radical Routes or read the 2012 edition as a free e-book from GreenShopping.co.uk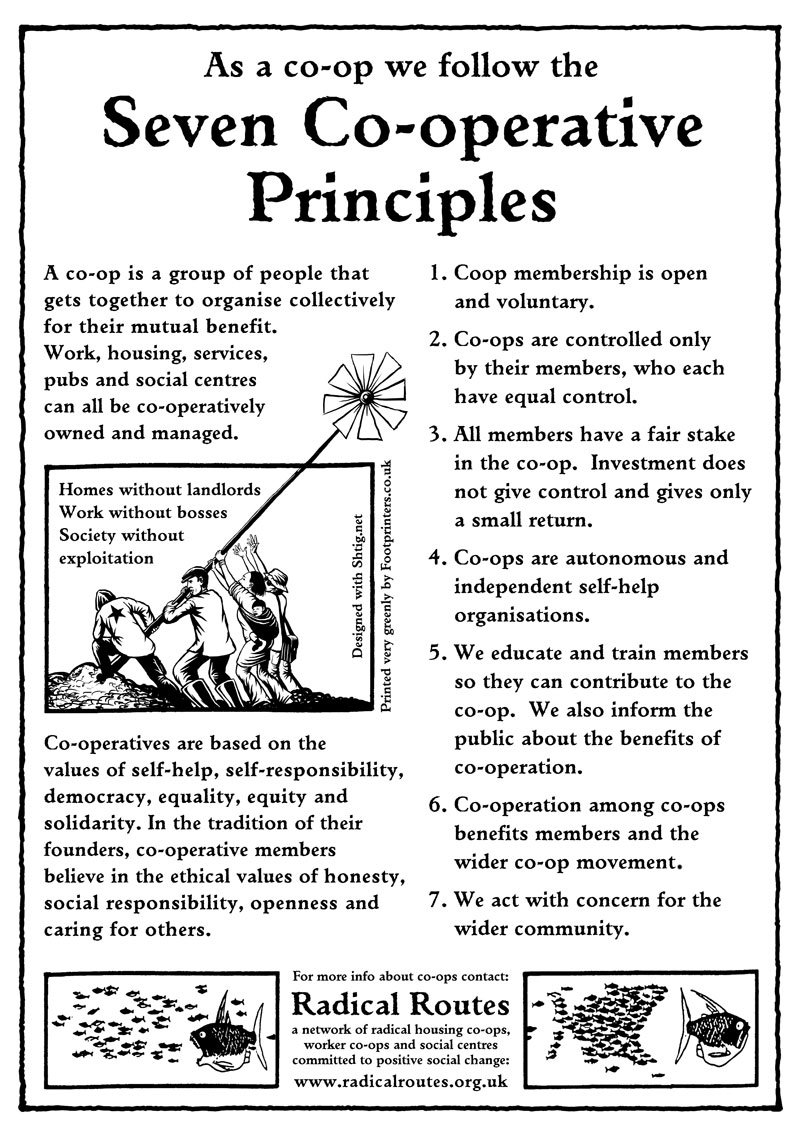 The Sumac Centre is a member of Radical Routes, a UK-wide federation of activists working for radical social change, who choose to work from or through co-operatives: workers' co-ops, housing co-ops and co-operative social centres.
Veggies Catering Campaign is an Associate Member of the recently-formed RR Trading Co-ops Network, which acts as a forum for skill-sharing and a tool for marketing member trading co-ops, covering areas like: woodland management, LED installation, accountancy and co-op registration, training & mediation, print & design, food co-ops, cafes & social centres, veg production and vegbox distribution, publishing and bookselling, sailing, web services
Co-operative Principles Tea Towel – buy it now for £6 + £0.73 p&p

Radical Routes also publishes:
How to Set up a Housing Co-operative – £3.25 inc p&p

How to Set up a Workers Co-operative – £7.00 inc p&p

How to set Up a Social Centre – £4.25 inc p&p

Co-operative Principles A4 Poster – £1.30 inc p&p

All these are available from Veggies at the Sumac Centre & many events. The publications are described in more detail and may be read or downloaded from the Radical Routes website