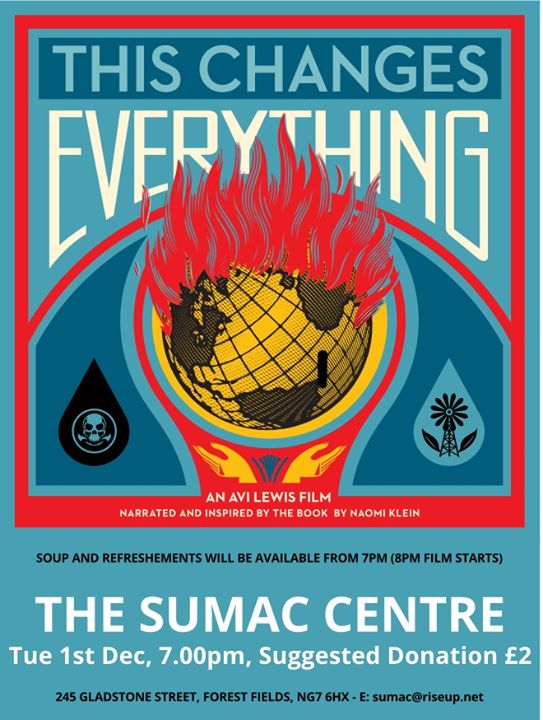 On Tuesday 1st December Sumac will be screening 'This Changes Everything' – the documentary by Avi Lewis.
Join in and get a chance to find out more about local climate change campaigns and how to influence the global negotiations in Paris!
Synopsis:
What if confronting the climate crisis is the best chance we'll ever get to build a better world?

Directed by Avi Lewis, and inspired by Naomi Klein's international non-fiction bestseller This Changes Everything presents seven powerful portraits of communities on the front lines, from Montana's Powder River Basin to the Alberta Tar Sands, from the coast of South India to Beijing and beyond.
Film screening starts at 8pm – Suggested donation: £2
Soup and refreshments available from 7pm, to help cover costs.
'This Changes Nottingham' now have 3 screenings of 'This Changes Everything' film in Nottingham City – so plenty of opportunity not to miss this fantastic film!
1) 1st December at The Sumac Centre
2) 16th December at Screen 22
3) 27th January at the ICC (or Nottm Mechanics)
#ThisChangesEverything by @AviLewis inspired by @NaomiAKlein. Film Screening @ #SumacCentre https://t.co/6w3DnMBEvp pic.twitter.com/qQHcejCIe1

— Veggies Catering Ⓥ (@veggiesnottm) November 23, 2015